Work and Skills SkillsBootcamps
GMCA has secured £7m funding to deliver more Skills Bootcamps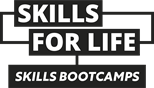 Greater Manchester Combined Authority (GMCA) has secured £7m from the Department for Education for the next phase of Skills Bootcamps in the city-region, which aim to help people get into employment in key growth sectors, switch career or upskill into a better job.
Skills Bootcamps aim to help adults living and working in Greater Manchester to progress in work by giving them access to in-demand skills training and a fast-track interview for higher skilled, good quality jobs. The programme also benefits employers by helping them to fill specific skills shortages and vacancies, increasing productivity within their organisations.  
Hammad Zafar, 36, from Manchester, previously worked as a part time deputy warehouse manager. He wanted a career change and found the bootcamps advert online. He accessed a Cyber Security Bootcamp with Netcom Training through the Skills Bootcamps programme. Following the training Hammad gained a new role as a Software Account Manager at IDNS, based in Bolton.
Hammad said: "The course gave me basic knowledge about cyber security which I previously have not had.  More importantly, my training tutor helped me with CV writing and made sure my CV demonstrated all the employable skills I have. After I applied for the job at IDNS, my tutors provided mock interviews and helped me to be fully prepared for the interview. I smashed the interview and was hired after my first interview with IDNS. I can't thank Netcom enough for all the support."
Councillor Eamonn O'Brien, Greater Manchester's lead for Education, Work, Skills, Apprenticeships and Digital said: "Greater Manchester's Skills Bootcamps programme goes from strength to strength. This funding boost will support even more adults across the region to take advantage of these free courses and get on the path to sustainable careers in key growth sectors. The programme also benefits employers by helping them to recruit a diverse workforce with the technical skills their businesses need".   
The programme supports key growth sectors of the Greater Manchester economy such as Digital, Creative & Tech, Construction, Green and Manufacturing and aligns with commitments made by Mayor Andy Burnham to set up the UK's first integrated technical education system.
The pilot phase of Skills Bootcamps concluded at the end of 2022 and saw over 1,200 participants completing training courses. Notably, 57% of participants were from ethnic minority communities and 50% were unemployed. A total of 72% of those who completed pilot courses were offered a guaranteed interview with 54% moving into skilled employment.
In 22/23 GMCA funded 14 providers across three priority sectors - Digital, & Tech, Construction & Green and Manufacturing. There are a wide variety of Skills Bootcamps being delivered, covering skills gaps in areas such as digital marketing, cyber security, cloud engineering, low carbon heating, installation of green technologies, rail engineering, advanced manufacturing and industrial textiles.
GMCA is now looking for specialist training providers and employer partners with innovative ideas to train people for jobs in key sectors with skills shortages.

Various opportunities will go live in the coming weeks for training providers to bid for and deliver training in the following industries:
Digital, Creative & Technology  

Construction & Green Skills 

Manufacturing 

Logistics  

Education, Health, & Social Care 

Hospitality, Leisure & Tourism 
Skills Bootcamps will focus on supporting individuals across priority groups including:
Low paid / under-employed
The unemployed or out of work
Self-Employed
Veterans
Ex-offenders
Women
Ethnic minorities
The over 50s
Those returning to work after a career break
People living with a health conditions or disabilities
Skills Bootcamps are fully-funded for individuals who are not accessing training through their employer (i.e. out of work, in-work and looking for a career change or the self-employed), however, employers training their existing workforce are asked to pay 30% of training costs. This is reduced to 10% where an employer has less than 250 employees.
Skills for Growth and Skills Bootcamps are designed to support employers who have highlighted that they cannot find the technical skills in Greater Manchester required to support and grow their businesses. Skills for Growth supports businesses to increase skills levels of employees, while Skills Bootcamps gives employers access to a pool of newly trained individuals. 
Get involved in Skills Bootcamps
You can get involved in Skills Bootcamps by:
For more information about Skills Bootcamps please visit: Skills Bootcamps - Greater Manchester Combined Authority (greatermanchester-ca.gov.uk)
---
Article Published: 13/02/2023 09:58 AM