How Greater Manchester is doing digital differently - digital inclusion event
In Greater Manchester, we are doing digital differently.  We are committed to being a digital city-region that puts people at the heart of our plans and are working towards our ambitions to be recognised as a world leading digital city-region. 
At the beginning of 2020, the Greater Manchester Combined Authority launched the Greater Manchester Digital Blueprint, which set out the digital ambitions for our city-region. A lot has happened since then.
In what has since been termed one of the most momentous weeks in 2020, Greater Manchester's industry, community and public sector organisations came together with leaders across the region to further our commitment to empower people and ensure no one gets left behind with the launch of the Greater Manchester Agenda for Change and GM Digital Inclusion Taskforce.  
Want to join our mission for a 100% digital enabled city-region? Sign up here.
The event, hosted as part of Digital Leaders Week, celebrated sector achievements during COVID-19, with specific focus on our commitment to empowering people through digital and addressing digital exclusion and inequalities across the region.  
This pandemic has highlighted the importance of digital and digital inclusion, it has widened the inequalities caused by digital exclusion, but is also acting as a catalyst, which is accelerating digital inclusion efforts. In Greater Manchester, we want to create a truly 'connected' city-region where everyone has equality of opportunity to access all that Greater Manchester has to offer. 
You can read the full write up of our event below or scroll to:
Let's get going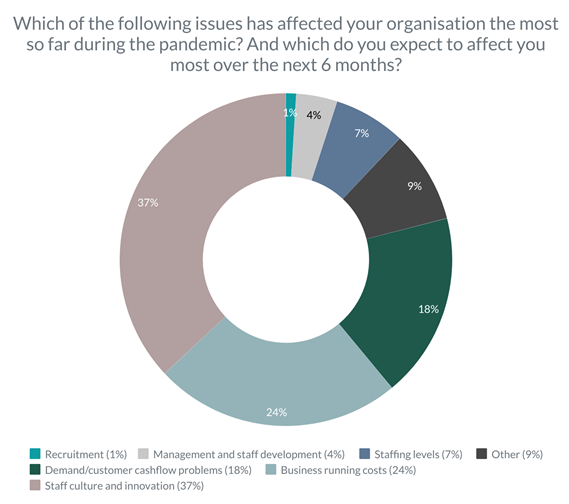 Our event kicked out with an introduction from our host Lou Cordwell, co-chair of the Greater Manchester Local Enterprise Partnership. 
We took the opportunity to get audience insight into some key questions for us. Including asking which issues had affected organisations the most so far during the pandemic, and which the audience expected to affect them most over the next six months? 37% of the audience said staff culture and innovation, 24% stated business running costs, 18% demand and customer cashflow problems, 9% stated another reason to those listed, 7% said staffing levels, management and staff development for 4% of the audience completing and 1% said recruitment. 
Our panel highlights
We then moved onto our panel session and introductions from our panellists. 
Exploring current issues in an increasingly challenging climate, we asked how the digital sector may contribute to support local residents with their skills and ability, confidence and basic digital skills. Ryan McMurdo, Training Officer for Starting Point in Stockport, outlined how the social enterprise has been leading the digital inclusion response for the borough through the DigiKnow initiative. The power of the ecosystem was pivotal to the success of the scheme and building an alliance of partners, including Greater Manchester Combined Authority and Stockport Council to support the delivery and respond to barriers swiftly. "DigiKnow is more than an initiative, it is a movement across Stockport" Ryan said as the scheme which had aimed to support 2,000 residents have engaged with over 7,000 residents across the borough. 
Ryan was clear that pandemic has just made known issues in Stockport, worse. Before the pandemic, DigiKnow were able to offer people non-threatening safe spaces places, and faces and saw hundreds of people each week. DigiKnow had to adapt and couldn't leave these people behind. "No-one should be relying on notes in their windows to get help" said Ryan. 
Next up, was Beckie Taylor, CEO and Co-Founder, TechReturners. Beckie gave a different perspective on digital skills as TechReturners provide already skilled tech professionals returning to the industry accessible opportunities to refresh their skills. Through a range of programmes, resources and development tools we help reignite individuals' careers - back to and through technology. 
Ross Martin, Engagement Manager, Barclays Digital Eagles started at the beginning of their journey – when Barclays equipped all their frontline staff with tablets but soon found the technology wasn't being used. They discovered a large number of colleagues not comfortable with this using the tech. This was how Digital Eagles was born and what followed was a massive scale up and the programme was developed to work with customers and local communities. "I really feel staff culture and innovation is key in addressing digital inclusion" said Stephen also from Barclays Digital Eagles. 
As one of the first contributors to the Greater Manchester Technology Fund, Martin McFadyen, Head of Public Sector, Virgin Media Business recognised the impact of the pandemic on the North and how digital inclusion is a facet of the wider social divide. Virgin Media Business see social value a key part of any contracting and procurement arrangement and have made these commitments through the Local Full Fibre Network programme to ensure that we could contribute to the social prosperity of the region."   
Whilst Greater Manchester has a thriving digital and creative sector with the biggest tech cluster outside of the capital, the industry faces a widening divide. Annette Joseph, founder of Diverse and Equal speaks about levelling up and addressing the digital divide means for businesses, with the advancement of digital especially during the pandemic has led to further increase in gaps elsewhere. "Without diversity in digital spaces, how do we know whether the innovation we are building is fit for everyone?" Annette emphasised the need for organisations to focus on transferrable skills and creating safe spaces as part of their company culture, "A lot of times, people are more capable than they think they are" said Annette.  
The pandemic has highlighted the importance of digital and digital inclusion but has also widened inequalities caused by digital and social exclusion, Lou asks what are the main ways the sector has evolved and how do we sustain growth?  
Mo Isap, Co-Chair, Greater Manchester Local Enterprise Partnership and CEO, IN4.0 Group said "When we talk about inequalities we are only just scratching the surface" 
Investment is a massive problem. An issue Mo is clear on – that we underestimate the level of inequality, we can't appreciate the issue if we haven't been in this position. Disadvantaged people do not realise how much of an issue their own disadvantage can be. Mo gave examples of how the IN4.0 Group are working with some parents on reading and writing before moving onto digital inclusivity. Mo reiterated how we can often jump to digital but for some people, basic skills are an issue, and this can be taken for granted. Fair access is fundamental – accessibility is one thing; fair accessibility is another. 
Annette was the next panel member to tackle this question and referenced how digital advancements over the last six months the world of digital and beyond! One of the gaps Annette is working to address is the under representation, in the industry of people from BME backgrounds, lower socio economic and women. "How do we know the impact of our products and services if our sector isn't representative? When you bring together these people, the gaps in knowledge narrow and innovation increases" says Annette. 
Along with the challenges, there has been a positive cultural shift across organisations with remote and virtual working encouraging employers to be more inclusive and accessible, removing barriers like geography. Organisations like Tech Returners have seen some of the benefits through pivoting services online which has allowed the business to harness many more opportunities. By converting sessions to online this has automatically become more inclusive and has worked better for their target audience who are already skilled in the area of remote working. Beckie says "When companies ask what is the best way to get more women into industry? The answer is that there isn't one way." Since March, Tech Returners were able to place 16 returners into Greater Manchester organisations, 15 were women.  
Martin agreed this is the right thing to do and shared how Virgin Media Business have supported Greater Manchester in this area – through projects such as the Greater Manchester Technology Fund. "We know we have to equip the next generation with everything they need to be digitally literate" said Martin. In addition, Virgin Media Business are working with Greater Manchester schools to improve connectivity where possible, to improve the online offer for school children. The organisation is also working on an initiative to improve connectivity into hostels across Greater Manchester to support access and have been supporting The Mayors charity, A Bed Every Night. "We don't think we have all the answers, but we strongly believe digital connectivity and access is a key part in addressing digital inclusion" said Martin. 
Annette told the audience there is an opportunity to build something really special in GM - we have the people but "I'd like to see a commitment towards diversity in the sector. Work needs to be done inside organisations, allowing our people to bring difference to workplaces in safe spaces"  
Digital inclusion and our agenda for change
Sara Todd, Lead CEO for the Digital Portfolio at Greater Manchester Combined Authority summarised the discussion building on the themes of utilising the passion and strengths of Greater Manchester ecosystem, building on our foundations and principles of collaboration to do digital differently and how the Combined Authority has already made significant investment into local authorities work in their communities to bridge the gaps and address barriers to digital exclusion.
"As a region, we can only achieve our ambitions to become a world-leading digital city region if all our residents and business have the access to the same opportunities digital brings." 
With new stats revealed on the extent of levels of digital exclusion in our region, by The Good Things Foundation stating that as many as 1.2 million people in Greater Manchester, may be excluded in some way from the opportunity that digital brings to improve lives what is clear is the approach needs to evolve to connect as a region as the urgency is clear. Over 700,000 people in Greater Manchester only using the internet in a narrow or limited way and a further 450,000 classified as 'non-users.' 
"Our intention to be a 100% digitally enabled city-region can only be realised by addressing those barriers. We are inviting you to join our Greater Manchester Digital Inclusion Agenda for Change, focussed on building an exemplar framework and mechanism for delivery fuelled by an action plan shaped by our ecosystem.  We believe access to the digital world should be a basic human right, and connectivity should be treated as the fourth utility." Sara reiterated the authorities intention to work with Government, industry, communities and the voluntary sector to level the digital playing field. 

We are calling on business leaders, communities and organisations who have a stake in digital inclusion or that benefit from those that are online to join our Greater Manchester Agenda for Change mission to ensure no one is left behind, regardless of age, situation or background. Visit our page to find out more and watch the moment below, where Sara launched our agenda foer change.

Greater Manchester Digital Drive
Before close our chair for the day, Lou, leading on from Sara's commitments around digital inclusion announced the launch of the Greater Manchester Digital Drive.
Greater Manchester businesses impacted by COVID will be offered free support to build their online presence and reach a wider market as part of a new scheme.
GMCA and the Business Growth Hub have partnered with THG Ingenuity, the Technology Services division of Manchester-based THG, a global technology platform specialising in taking brands direct-to-consumers, to launch Greater Manchester Digital Drive, an initiative which provides businesses with free access to "off the shelf" tools to help them get online or improve their existing digital offer.
Through the initiative, businesses will be able to access THG Ingenuity's Dotable platform so they can create and host a website for free for up to 12 months, building an online presence without any financial investment or risk. 
The service offers them the chance to diversify in the current climate and test whether an online presence will help to drive more business and awareness.
Those that are already online but require a more sophisticated offering can gain free access to THG Ingenuity's Imagination platform for six months, which offers additional e-commerce features that they can customize to their needs.
Lou brought our event to a close, thanking our speakers and our attendees for our time.
Watch the full event video in full below.