Fast Track Fund Case Studies
Fast Track Fund Case Studies
The Fast Track Digital Workforce Fund, which was developed to address locally identified digital skills gaps, is a joint venture between the Department for Digital, Culture, Media and Sport (DCMS), Greater Manchester Combined Authority (GMCA) and Lancashire Digital Skills Partnership (LDSP). 
The £3 million fund, which is the first of its kind in the UK, was set up to support both Greater Manchester and Lancashire residents with accessible routes into digital employment, specifically targeting disadvantaged groups and those underrepresented to help them get into digital roles. 
To demonstrate the impact of the Fast Track Fund we are developing case studies from projects that have received Fast Track funding.
---
Generation AWS re/Start Case Study
Generation is an independent nonprofit founded in 2014 by McKinsey & Company to help bridge the gap between the levels of unemployed young people and employers struggling to find people with the skills they need for entry-level jobs. Generation deliver training programmes which help both workers and employers, by preparing, supporting & placing people in jobs. 
Generation received funding in round 1 of the Fast Track Digital Workforce Fund to deliver their AWS re/Start training programme. The AWS re/Start programme is a 12 week, full-time, boot camp run in collaboration with the Princes Trust, which prepares individuals for entry-level cloud positions. The program was designed to support unemployed and underemployed individuals by providing education in AWS Cloud skills and connecting alumni with potential employers. 
Meet Victoria
Victoria is originally from Russia and moved to the UK in 2017 when she was 26 years. Despite having a degree in economics, Victoria struggled to find a job or any meaningful employment. Victoria ended up doing some casual work in a call centre whilst studying web design in her evenings.
When Victoria came across an advert for the AWS re/Start boot camp she thought it sounded like the perfect match and was delighted to be given the chance to study alongside other AWS hopefuls.  3 months later, after successfully graduating from the re/start training course, Victoria was delighted to be offered a role at Oxbury Bank Plc as a Trainee AWS Engineer.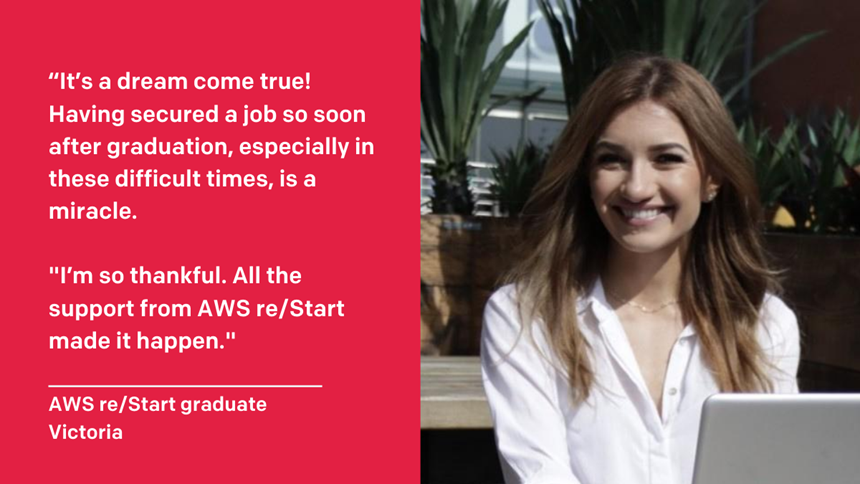 Stuart Ellidge, CTO at Oxbury said: "We're really excited to have Victoria join the Oxbury IT Operations team. The skills she has acquired on the AWS re/Start programme will definitely stand her in good stead and we look forwards to helping her to achieve her potential in a fast-moving and dynamic industry."
Find out more about the Fast Track Fund  
Find out which Fast Track Fund programmes are currently recruiting 
Find out more about Generation and the other courses they deliver