The Greater Manchester Warm Homes Fund is now closed for new applications. An application has been made for additional funding to continue installations – if successful, the scheme will re-open in early 2020. Please check back or contact 0800 038 5737 for more details.
500 homes across Greater Manchester will get a new central heating system fitted for free* thanks to the Warm Homes Fund.
Greater Manchester Combined Authority (GMCA) has secured £1.8 million from this national fund which has been established by National Grid and is administered by Affordable Warmth Solutions. It will offer a helping hand to households struggling to afford to stay warm and those who are vulnerable to the cold that do not currently have a central heating system.
The scheme is running throughout 2018-19 but is operating on a first-come, first-served basis and will close to new applications once all the funds have been allocated.
How does it work?

For details of your local affordable warmth service please see below.
Eligibility
The Warm Homes fund can provide help to households that:
Qualify for one of the affordable warmth schemes in Greater Manchester (see below for details) and receive a home visit from a trained energy advisor
Do not have an existing gas central heating system installed. This means the fund is targeting households that heat their property with electric storage heaters, room heaters or open fires. (If you just have gas in one or two rooms you may still be eligible e.g. kitchen.)
Live in a property that is suitable for the safe and economical installation and operation of a central heating system.
Homeowners are eligible and dependent upon your Council's policy private tenants may also be eligible. (If you privately rent your property we will need your landlord's permission.)
What's included?
The scheme covers the cost* of everything that's required: the boiler, radiators and pipework. Eligible households won't have to contribute anything towards the cost.* Where necessary we will also seek to support a household to get connected to the mains gas grid.
The affordable warmth visit will also provide advice on saving energy, switching energy tariffs, install small energy saving measures and identify any other opportunities for a household to reduce their bills, such as insulation and help with finances.
How to apply
To apply for yourself or for someone else please contact the relevant affordable warmth scheme for your area. They will arrange a home visit and check whether you are eligible for the Warm Homes Fund. When you call please mention that you are interested in the Warm Homes Fund.
The contact details are as follows: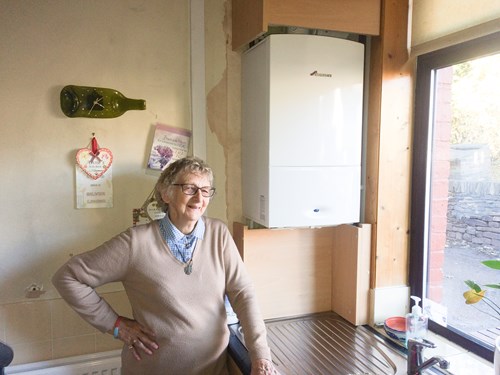 Anne from Oldham and other Greater Manchester residents are benefiting from free central heating through our Warm Homes Fund. Call now on 0800 038 5737.
Who is involved?
Your local council is involved in delivering the scheme with the following partners.
Commitment to low carbon
The majority of the central heating systems installed will be gas, but up to 20% will be air source heat pumps which will be installed into social housing, supporting GMCA's ambition of retrofitting homes to be low carbon.
For more information on air source heat pumps 
*Subject to availability, eligibility and funding.