Gender Based Violence Strategy
We want Greater Manchester to be one of the best places in the world for people to grow, up, get on and grow old – and we are on a journey to achieve that.  The prevalence of gender-based violence represents a major barrier to achieving our ambition.
Through the Gender-Based Violence Strategy, we aim to lead a comprehensive, responsive programme of service delivery that enhances the safety of women and girls, while preventing gender-based violence and challenging the attitudes and inequalities that enable it.
Greater Manchester is home to over 1.4 million women and girls and we continue to lead the way in striving for gender equality. However, there are a number of issues that disproportionately affect women and girls. Gender-based violence is one of the most pervasive violations of human rights in the world, with far reaching consequences for communities and society, as well as individuals and their families.
Abuse is deep rooted in gender inequality and subconscious bias, which has developed over generations, and occurs irrespective of class, ethnicity, faith, sexuality or where you live. Recent campaigns such as #MeToo and #TimesUp have given the issue more exposure. Very recently, the outpouring of emotion and testimonies following the tragic abduction and murder of Sarah Everard demonstrates all too clearly there remains much that we must do to tackle gender-based violence head on.
That's why we have been developing a strategy for some time, which contains a series of commitments to end gender-based violence, and we want to know what you think about them.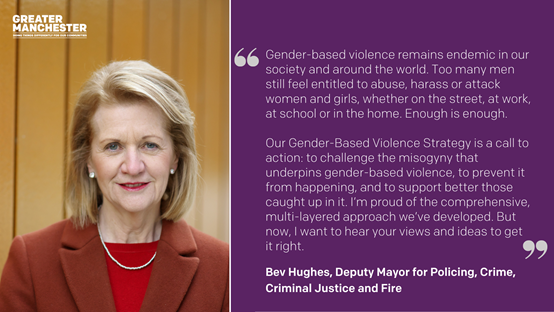 Consultation
In order to get this far in developing the Greater Manchester strategy to end gender- based violence, we have worked extensively with a range of people who support those affected by abuse, including the police, offender services, health services, education, safeguarding experts, and community and voluntary sector organisations. Most importantly, we have talked to many women who have personal experience of abuse.
In March 2021, we published the draft strategy online and invited people to share their views on it – in essence to get a sense check. We received 62 responses and in addition to altering the title and definition we have made several other amendments.
Now we want to find out what you think about the Greater Manchester Gender-Based Violence Strategy. Greater Manchester is a place where all voices are heard and where, working together, we can shape our future. Therefore, we would like to understand your views on how we can – together – deliver a strategy that will significantly reduce the risks and harms caused as a result of gender-based violence.
Our strategy will be delivered over a ten year period.  We won't be able to deliver all of our commitments at once and that is why we also want your views on what we should prioritise.
If we are to effectively tackle gender based abuse we must mobilise the whole of Greater Manchester and work together, therefore we want this to be a Strategy where everyone can have a say on what we are proposing.
You can help us shape our Gender Based Violence Strategy by visiting our consultation hub: www.gmconsult.org
Please share your views before the consultation closes on Sunday 1 August 23:59
For further information or enquires, you can email us at:
GMtacklinggenderbasedabuse@greatermanchester-ca.gov.uk
Previous consultation
We invited the public to comment on a draft copy of Gender Based Abuse Strategy: The Greater Manchester Strategy to Tackle Violence Against Women & Girls.
We are committed to tackling gender based abuse in Greater Manchester and make our streets, workplaces and homes a safe place for women and girls.
The Strategy was developed over many months, including consulting with a range of groups, individuals and professionals within various sectors.
We recognise however that publication of the Strategy represents a start, that there is much to do and that no one has all the answers.
From the feedback provided, we have publish a revised Strategy for a full public consultation (above).
We will also publish a specific complementary plan for violence and abuse against men and boys at the end of the year.