Gender Based Violence campaign #IsThisOK
The Mayor of Greater Manchester, Andy Burnham, has launched a campaign aimed at men and boys, challenging their behaviours to tackle sexual harassment of women and girls in public spaces.
The campaign begins with a powerful video highlighting the experiences women and girls face going about their daily lives.
It tells the story of a young woman being sexually harassed on social media, out jogging, coming out of a coffee shop and out at night. These are everyday behaviours that are engrained in society and sadly, some people may perceive them to be innocent, but the video shows the impact it has on those on the receiving end and asks the question – do you think this is OK?
The video – which is a catalyst for a much wider public engagement campaign to come in 2022 – aims to start a conversation with men and boys about why these types of behaviours are not OK. They are unsolicited intrusions which make women feel uneasy, threatened or even vulnerable.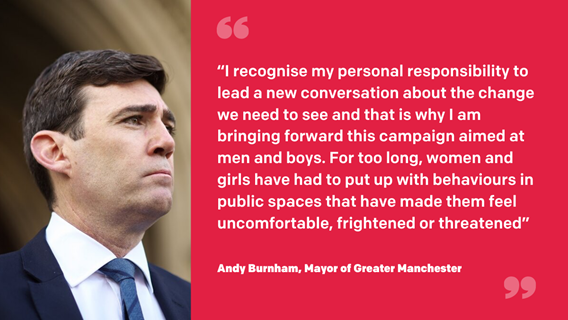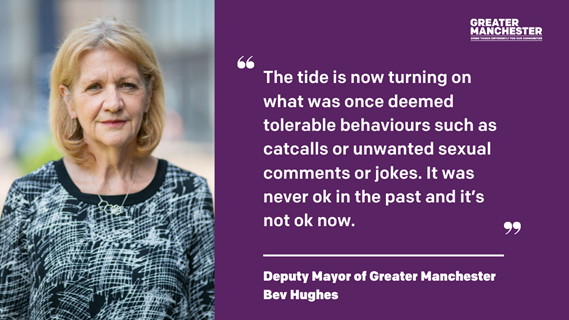 We have worked with women's groups and men and boys as part of the development of the video and the storyboard is based on experiences of women and girls across the UK.
UN Women UK found that:
71% of women of all ages in the UK have experienced some form of sexual harassment in a public space.

This number rises to 86% among 18-24-year-olds.

Over 95% of all women did not report their experiences of sexual harassment
The campaign is part of Greater Manchester's 10-year Gender-Based Violence Strategy published in September 2021.
Next year, we plan to take the video out to schools, colleges and other community settings and we hope it will be the first in a range of activities and public engagement actions about gender-based violence and challenging men's and boys' behaviours. The development of the campaign will be informed by the Greater Manchester Gender-Based Violence Board.
Follow @Mayorofgm on social media, watch the video, think about your own behaviour and ask yourself #IsThisOK