Careers
This is Greater Manchester
Working together to make Greater Manchester fairer, greener and more prosperous
As an employing organisation the Greater Manchester Combined Authority (GMCA) deliver key strategic policy, planning and programme support to GM Local authorities and partner organisations enable the Greater Manchester Strategy to be delivered.
We work across more than 23 areas including; Work and Skills, Waste and Resources, Resilience, Investment, Environment, Economy and Ageing. You can find out more about what we do here: What We Do - Greater Manchester Combined Authority (greatermanchester-ca.gov.uk)
As of 2023 the GMCA employed over 2,200 members of staff, this includes Greater Manchester Fire and Rescue Service employees who make up over 70% of our workforce.
You can view and apply for our vacancies here (External link)
Why work for us?
We are a public sector employer of choice in Greater Manchester, who offer exciting opportunities that are at the forefront of public sector innovation and devolution.
By working for us you will be directly contributing and making positive a difference to the Greater Manchester region, to the communities, businesses and people that live and work here.
Positive & Inclusive culture:
We are proud to say that we have retained our 2 star "outstanding" staff rating in the last B-heard survey, demonstrating the positive culture that we have built continues to thrive.
In addition, we have built a range of internal staff networks to support our staff, these include; Rainbow (LGBTQIA+), GM Women's Success and Support Network, Race and Faith, Enable Staff Network (dis-ability network) and Armed Forces Networks.
Some more of our awards and accreditations include: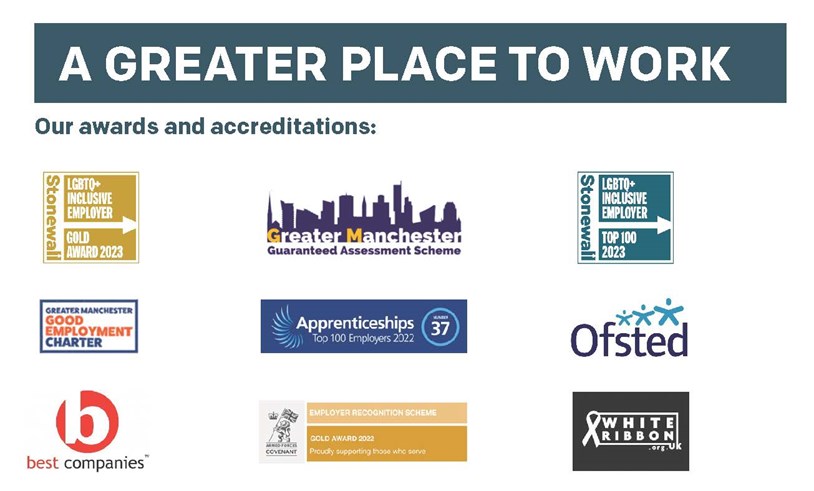 Read about who we are, including our constitution and corporate plan (Internal link)
Management Trainee Programme 
We have an exceptional development opportunity for anyone wishing to pursue a career with a dynamic exciting, and socially responsible employer.
Our new management trainee programme provides a unique and fulfilling experience working on three, eight-month rotations in different departments and teams across the combined authority.  
You will be joining an organisation that really makes a difference to people lives.  Our mission is making Greater Manchester a better place for all and this programme will mean you will be actively contributing to making this mission come alive.
You will work in partnership with people at all levels from a variety of disciplines.  The role will require you to challenge the status quo, to bring about change and show dedication to our aim of making Greater Manchester a great place to live, work, grow old and visit.
Along with gaining on the job experience, you will also be enrolled on valuable training and qualifications over the two years.
We are looking for someone with the right values and attitudes who can demonstrate their motivation for a career in the public sector.  You will need to demonstrate excellence in working with others, persuasive communication, delivering outcomes, analysis and problem solving, personal resilience, leadership potential and digital skills.
If this sounds like the type of role that really interests you and you can bring some of your creativity and passion to it, we would love to receive your application.
Apply here by 24 September 2023 Management Trainee Programme | Job Details | greater jobs (External link)