Digital Digital skills
Blog: Digital upskilling for the new normal
Digital upskilling for the new normal
To celebrate Digitober, we spoke to David Marriott, UK Business Operations Manager at Raytheon Professional Services about how recent events have exposed the digital divide and highlighted the importance of training people for the jobs of the future.  
Despite the challenges currently facing businesses up and down the country, Greater Manchester's tech sector continues to adapt and grow, bringing opportunities to other businesses and residents in the region.
There are almost 8,000 digital and creative businesses in Greater Manchester employing more than 82,300 people. Greater Manchester is already home to the largest digital cluster outside London and has a digital ecosystem worth £5bn.  
These businesses could be the rocket fuel for a digitally inspired economic recovery, but in order to bring the people of the North West along for the ride, there must be a step change. Because too many people are not able to access the rewarding opportunities available in this sector because they don't have the skills.
Nationally, there are 11 million people (22% of the population) who lack the basic skills to use the internet effectively, according to the Office for National Statistics. And the opportunities of the next decade of employment are only likely to require more of this simple digital know-how.
The seeds of progress are already in place. The Fast Track Digital Workforce Fund, which was developed to address locally identified digital skills gaps, is a joint venture between the Department for Digital, Culture, Media and Sport (DCMS), Greater Manchester Combined Authority (GMCA) and Lancashire Digital Skills Partnership (LDSP).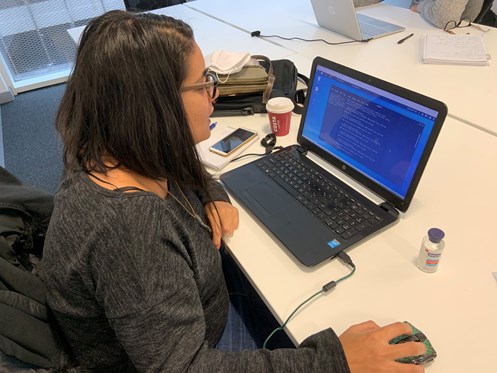 This initiative aims to help tackle the digital skills gap across Greater Manchester and Lancashire, supporting the local economy by building on the key digital skills requirements that employers have identified. There is a real benefit for employees too; academic research shows that people in work who acquire digital skills achieve a rise in earnings of between 3% and 10%. That is equivalent to a £376 increase in net earnings per trained individual per year.
Raytheon Professional Services, were one of the successful training providers to receive funding to  train Greater Manchester residents for the jobs of tomorrow through the Cyber Academy. The Cyber Academy is creating inclusive opportunities for groups of people with limited access to digital opportunities including BAME, neuro-diverse candidates and ex-armed forces personnel, whilst also upskilling employees in existing IT roles.
With only 15% of roles in the cyber industry held by women in the UK, organisers are especially keen to encourage female applicants onto the course.  It is well known that diverse workplaces have proven to be more successful as they foster diverse opinions and ideas – providing different, but valuable perspectives on problems.
Janet from Oldham is one of several female participants on this year's course. She decided to enrol on the programme after being made redundant due to the pandemic. "I lost (my) job, and all of the processes of getting into employment [are] delayed," she said. She is taking advantage of the down time to upskill in digital. "It will be nice to learn how to secure systems and help the community. In cybersecurity the activities involved are varied so I feel working as a cyber security professional every day will be different."
Stu from Failsworth is leaving the army in a few weeks time. He's hoping that through his training at the Cyber Academy he will be able to find employment in Manchester's booming digital industry. "I am hoping to gain the foundational skills and certification required of a cyber security engineer. I am enjoying building on my varied knowledge of each of the subjects touched on so far," he said.
Georgia, who worked in the tourism industry in Greece, saw the current situation as the catalyst for a career change. "Computer Science was always a hobby," she said, "the situation with COVID-19 was an opportunity for me to improve my skills in something that I love".
Greater Manchester's stellar growth into one of Europe's largest digital hubs has created a growing demand for digital roles that will help support a thriving local economy.
It is our ambition that the Cyber Academy will support accessible routes into rewarding, long term careers in cybersecurity and software development for Greater Manchester residents like Georgia, Stu and Janet, helping them to future-proof their careers in digital.
In doing so, we can help propel Greater Manchester's economy to new heights.
Learn more about the Cyber Academy, and how to get involved
Learn more about Raytheon Professional Services, and the training solutions they offer
Digitober is a month focused on bringing together businesses from across Greater Manchester to combat digital exclusion and close the digital divide. 
Find out more about Digitober and how your organisation can get involved
---
Article Published: 09/10/2020 10:31 AM