Ageing covid19 Communities
Coronavirus can't stop the music for older people's choir
We are all facing challenging and unprecedented times, but so many people and groups across Greater Manchester are doing positive and amazing things in response to COVID-19.
We have launched #SpiritofGM to showcase some of the stories from across the city-region of what residents and communities are doing to help others.
To find out about some of the other wonderful things people across Greater Manchester have done to lift each other's spirits. Search #SpiritofGM on Twitter and keep an eye on @MayorofGM
One choir for older people in Greater Manchester hasn't let the outbreak get in the way of their singing while making sure they are checking in on each other and making sure everyone is okay in these challenging times…
The Golden Voices Choir has been running in Greater Manchester since 2009, with members aged from 50 to some in their nineties.
While the group's weekly rehearsals and regular performances were brought to a halt by the coronavirus outbreak, the group has continued to meet weekly via Zoom, to enjoy some singing, but also providing a chance to check in on each other in these difficult times.
Members of the group helped each other get set up on Zoom and for those that couldn't members are making sure to call them to check in and ensure they are okay. 
Around 30 members have been getting involved in the weekly calls, including some in their nineties.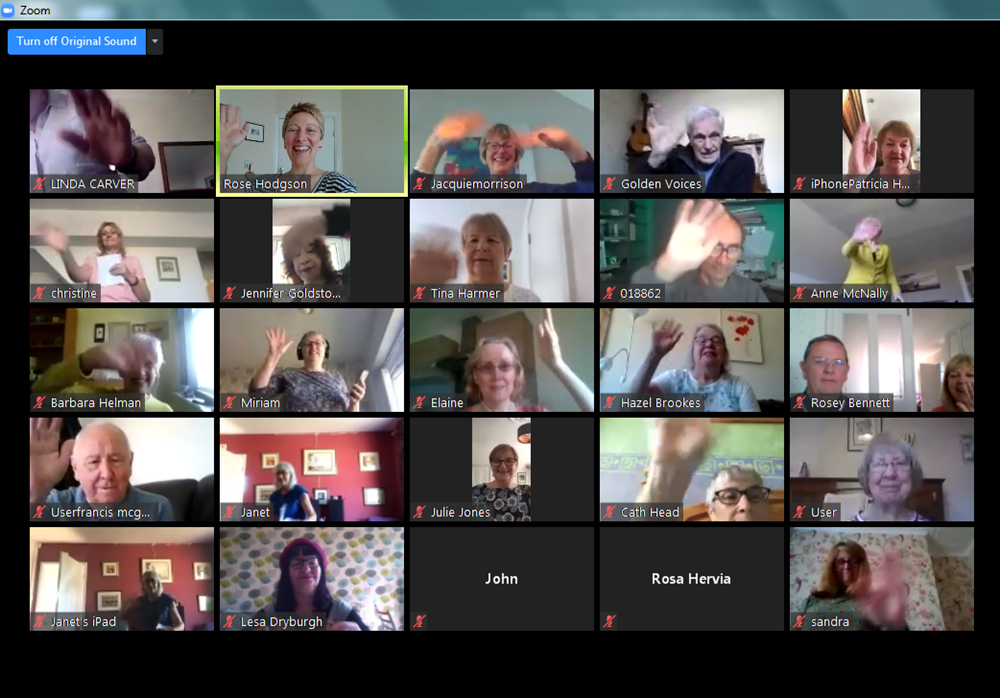 Chairperson Julie Jones, aged 73, and from Eccles said: "It is fun and everybody loves it. It is something that we have got an appointment to do that day. It is nice to see everybody and see that everybody is okay.
"We sing for half an hour and the Zoom call lasts 40 minutes so there's a chance to say something to individual people as well. There are a couple of people who can't get on Zoom and we have rung round to make sure they feel included and are okay."
As well as the benefits for people's mental health and wellbeing, singing helps strengthen the muscles we use to breath, helping us to learn to breathe more deeply and more slowly. It is also recognised as helping to reduce shortness of breath and to be more in control of their breathing.
Rose Hodgson, the choir's musical director, said: "It is very different to us all being in the room together but it is something. It is getting people breathing, the singing is really helpful from a respiratory point of view.
"Then there is the element of staying connected that Zoom brings. I think the community social aspect of the choir is just as important. Golden Voices is such a strong community and it is such a lovely group."
Our older residents are more affected by this present crisis than most. You can find a range of information on the support available via the website.
---
Article Published: 22/05/2020 12:30 PM