SkillsBootcamps Work and Skills
Greater Manchester's Skills Bootcamps programme helps full-time dad forge new career in Engineering

A full-time dad who was unemployed for five years has launched a new career in engineering thanks to Greater Manchester's Skills Bootcamps programme.  
Mark Vincent, 29, from Rochdale, had been out of work since being made redundant while he was working in the manufacturing industry. He is now a father of three, and decided he wanted to retrain and return to work to support his growing family.
Mark read about the fully funded Skills Bootcamps at Rochdale Job Centre and signed up straight away.
Mark said: "It was time for a fresh start and to try something new. Over several weeks I learned about Metal Inert Gas (MIG) welding. The course also covered general engineering and how to safely operate machinery. The tutors at Rochdale Training also helped me build a CV and develop my interview skills."
Mark was offered an interview after completing the course and is now working as an apprentice at Ventilation Design Services based in Oldham. He grew up surrounded by trade workers with most of his family working in the construction industry and aspired to follow in their footsteps.
Mark added: "I always wanted to get into engineering, but never had the right support to learn new skills with the right employer. This course has equipped me with skills that employers need, and my employer understands that I'm still learning and is very supportive.
"I'm learning something new every day and looking forward to the future. I would recommend this course to others. It's helped me and can help you.
"Don't be afraid to start from the beginning, always ask for help and advice if you get stuck. Always ask people how they do it, it helps you to see things from different perspectives".
Rochdale Training is one of the Skills Bootcamps training providers working in partnership with Greater Manchester Combined Authority (GMCA). The programme is fully funded through the Department for Education and aims to help people looking to get onto the career ladder, transition back into work after a break or access progression opportunities.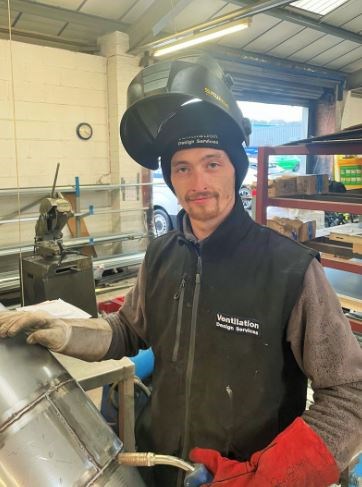 Skills Bootcamps support people aged 19 and over from priority groups including low paid and unemployed people, veterans and ex-offenders as well as women, minoritised communities and people over 50.
Welding courses delivered by Rochdale training are aimed at people looking to progress into a welding job, as well as to achieve progression in the Welding industry. Rochdale Training work with local employers to arrange interviews for learners who successfully complete the training course.
Bill Sandilands, Engineering Chief Instructor at Rochdale Training, said: "As well as providing an important qualification, the training also increases candidates' confidence and interviewing techniques to set them on the path to employment.
"It's all about standing out from the crowd and Rochdale Training makes you that bit more special and more attractive to potential employers."
Jenna Atherley, Operations Director at Ventilation Design Services Ltd, said: "So far, we are pleased with Mark's attitude to work, we can see that he is learning new skills in our workshop. Mark successfully completed his placement with us through Rochdale Training Centre and has now joined us on a full time basis to complete an additional apprenticeship in Engineering"
"It has been a pleasant experience to find someone who is willing to work hard and wanted a career in Engineering. It was a positive that Mark had recent skills through Rochdale College, not only in welding but also understood Health and Safety in the workplace. As an employer, the Skills Bootcamp really appealed to us because the candidates had an opportunity to learn new skills and/or refresh old skills and wanted a career at the end of it. It really does help people get back into the workplace"
Councillor Eamonn O'Brien, Greater Manchester's lead for Education, Work, Skills, Apprenticeships and Digital said: "We want everybody in Greater Manchester to have equal employment opportunities and the Skills Bootcamps programme has played a huge part in the creation of career pathways.  Skills Bootcamps help to giving residents the skills they need to open up career options, bridge skills shortages and build our economy. I urge more residents to make full use of this programme to learn new skills."
Joanne Roney OBE, Greater Manchester's Chief Executive lead for Skills and Apprenticeships said:  "This is a fantastic example of how Greater Manchester is plugging skills gaps through partnership working. By bringing together local training providers and employers, we are supporting people with finding employment opportunities and also responding to the needs of businesses in our city-region.
"It is great to see Mark has now gained employment as an apprentice, which is how I started my own career, and the Skills Bootcamp has opened up a range of opportunities available to achieve his career ambitions."
Skills Bootcamps aim to help adults living and working in Greater Manchester to retrain and reskill by giving them access to in-demand skills training and a fast-track interview for higher skilled, good quality jobs. The programme also benefits employers by helping them to fill specific skills shortages and vacancies, increasing productivity within their organisations.  
For more information about Skills Bootcamps please visit: Skills Bootcamps - Greater Manchester Combined Authority (greatermanchester-ca.gov.uk)
---
Article Published: 23/03/2023 16:12 PM