GMCA
Greater Manchester stands together for second city-region-wide Holocaust Memorial Day commemoration
Greater Manchester has marked Holocaust Memorial Day with a special commemorative event at Manchester Hall.
Faith, civic, political and community leaders came together on Monday 27 January for the second city-region-wide event to remember the millions of people murdered in the Holocaust and genocides in places such as Cambodia, Rwanda, Bosnia and Darfur.
In 2020, Holocaust Memorial Day – held under the theme of Standing Together – marks 75 years since the liberation of Auschwitz-Birkenau, and the 25th anniversary of the genocide in Srebrenica, Bosnia.
Last year the first Holocaust Memorial Day for Greater Manchester was held at Manchester Cathedral, with the support of the Holocaust Memorial Day Trust, the Association of Jewish Refugees, and the Greater Manchester Combined Authority.
Rabbi Daniel Walker of Heaton Park Hebrew Congregation addressed this year's event, as did Icek Alterman, a survivor of the Holocaust now living in Greater Manchester. There were readings from Figen Murray, mother of Martyn Hett, and Elinor Chohan MBE DL, Chair of the Northwest Board of Remembering Srebrenica, as well as performances by musicians from the Royal Northern College of Music and Cantor Avrom Aronson.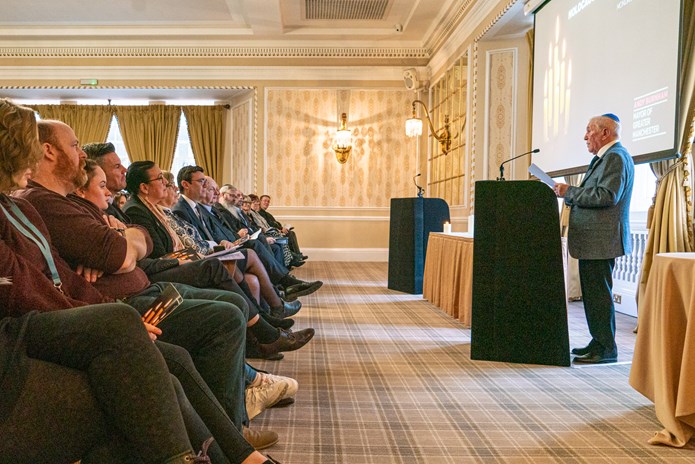 Mayor of Greater Manchester Andy Burnham said: "I want to thank the Association of Jewish Refugees, the Holocaust Memorial Day Trust, and friends including Figen Murray for joining us at Manchester Hall for this day of commemoration.
"Those who survived the Holocaust have given powerful testimony to the horrors they experienced, and as time passes on it is increasingly important that we hear their voices and reflect on the lessons of this atrocity and others around the world.
"Now more than ever, it is vital that we understand and recognise the historical circumstances that led to these appalling events, and challenge this kind of hatred whenever and wherever it occurs.
"The rich diversity of our places is our strength. I want to send a message of solidarity from Greater Manchester to all those around the world affected by persecution and its tragic, avoidable consequences: we will always stand with you."
Michael Newman, Chief Executive of the Association of Jewish Refugees, stated: "Holocaust Memorial Day commemoration is particularly significant this year as we remember 75 years since the liberation of Auschwitz-Birkenau, and how the world was freed from Nazi oppression that ostracised the Jewish community and other minority groups and deliberately divided society.
"On this day we remember those who, through their actions, alleviated the plight of the refugees and the survivors, and not only the Jewish victims of the Nazis. In addition to spoken testimonies, we can now also rely on the written and recorded word of testimony to combat untruth and to stand together to honour, commemorate and educate."
---
Article Published: 27/01/2020 13:17 PM