Police + Fire
Mayor and Deputy Mayor announce precept and Greater Manchester Police progress
Mayor of Greater Manchester, Andy Burnham, and Bev Hughes, Deputy Mayor for Policing, Crime and Criminal Justice, this afternoon addressed proposals to increase the city-region's policing precept, while also updating on progress made at Greater Manchester Police (GMP) within recent weeks.
Mayor of Greater Manchester, Andy Burnham
Today we are launching the public consultation on the Greater Manchester police precept for financial year 2021/22.
As well as explaining our funding plans for next year, I wanted to use this opportunity to provide a wider update on Greater Manchester Police.
I am pleased to be joined by Deputy Mayor Baroness Beverley Hughes and Acting Chief Constable Ian Pilling.
Last year, Her Majesty's Inspectorate raised serious concerns about GMP's procedures for the reporting of crime and support for victims which shook public confidence and required an immediate response.
In addition to the changes we have announced to the leadership of the force, a detailed action plan was developed and a number of important steps have already been taken, including:
accelerating recruitment into the new Centralised Crime Recording Unit to allow for the recording of all crime in this way at the point a victim first contacts GMP. Currently about half of all crime is recorded this way, the standard is very high and victims receive the service they need when they report the crime;
the delivery of detailed training to all frontline officers and staff on crime recording and support for victims;
the launch of the Greater Manchester Crime Support Line for anyone who previously reported a crime to GMP and wished to raise concerns or make a formal complaint. Victim Support, which manages the line on behalf of GMCA, has received over 200 calls so far.
The programme of work to address the issues raised by the Inspectorate is overseen by a strategic 'Gold' command operation, including officers from the GMCA and Home Office. Together with the Deputy Mayor and Acting Chief Constable, I will be meeting the Chief Inspector later this month to discuss whether the actions we are taking are the right ones and sufficient to meet the concerns raised.
We are confident that they are and that progress is being made. But I am clear that on their own they are not enough. More is needed to improve the accountability of GMP to our residents.
While it is not the only reason, it is the case that Government cuts to frontline policing has impacted on the capacity and performance of GMP and other forces.
Between 2010 and 2017, GMP lost 2000 officers. Cuts on this scale have consequences in terms of reduced police visibility, response and loss of connection with local communities.
When we entered office in 2017, the Deputy Mayor and I made a commitment to end these cuts to frontline officer numbers.
There are now 667 more police officers in GMP than there were in 2017 and numbers will increase again this year.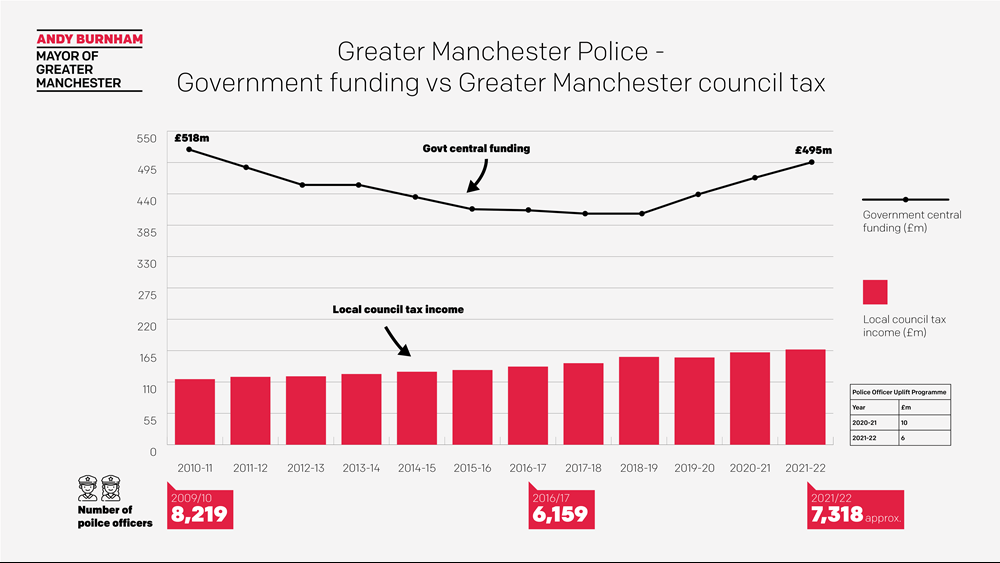 It is this increase in police numbers over recent years which means we are now in a position to make a new commitment to the public in return for the funding they provide.
From today, every resident in Greater Manchester will have a named, contactable local Police Officer and Police Community Support Officer.
People can find out who they are by going onto the GMP website, enter their postcode and, if they wish to contact them directly, follow the steps as outlined on the slides.
I appreciate that not every resident will have online access. For those who wish to contact their local officer but can't do so digitally, they will be able to call 101 and ask an operator who will be able to send the message for them.
It is important for me to make clear that this isn't a system for reporting crime. The public should continue to call 999 for emergencies, 101 and use online crime reporting systems in the normal way.
Nevertheless, it is a significant enhancement of GMP's neighbourhood policing offer. It will allow the public to follow up concerns raised or report more general issues affecting the local area. It will help officers better understand residents' concerns, improve public confidence in policing and, we believe, reduce the risks identified by HMIC of crimes going unreported and victims unsupported.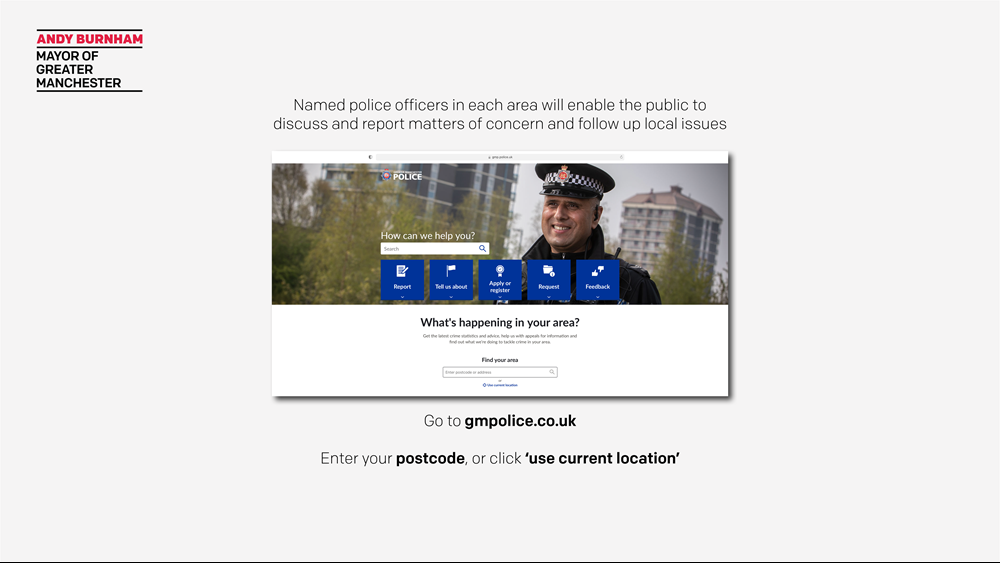 I acknowledge that it will create extra pressure on officers and that is why we owe it to them, in return, to continue investment in frontline support.
It is always hard to ask the public to pay more, especially at this difficult time.
I am freezing the Mayoral General precept for 2021/22 for this reason.
But we do need to continue to repair the damage done to policing in Greater Manchester by Government cuts to our central grant in eight out of the last 10 years.
Between 2011-2019, the Government grant to Greater Manchester was cut by £215 million, which, in addition to 2,000 fewer police officers, resulted in 1,000 fewer support staff and cuts to other essential resources.
During the same time, policing was becoming more complex and challenging – particularly in big city forces – with growing demand from cybercrime, terrorism, child sexual exploitation, human trafficking and, more recently, Covid-related enforcement.
Although the 2021/22 Government Grant has increased by 5% to support the recruitment of additional officers, and we are grateful for that, it doesn't make up for the years of shortfall.
Sadly, the Government is forcing some of the burden onto local council taxpayers.
My first priority has always been to keep the people of Greater Manchester safe and that's why we again will need to ask people to pay a little more for policing. So I am today proposing a headline increase in the police precept in Greater Manchester for financial year 2021/22 of £15 – or up to £1.25 a month.
For the majority of our council taxpayers, in Band B properties, it will mean an £11.66 a year increase. Only residents with Band D properties will pay the full £15 a year.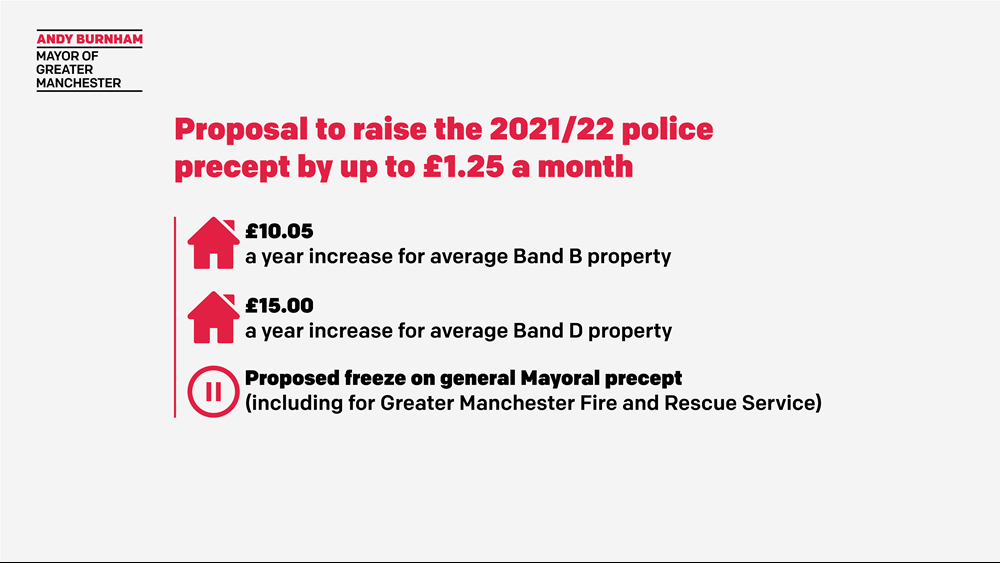 This proposal is today being put forward for public consultation and I would encourage people to take part by going to the website www.gmconsult.org and sending us your views. The deadline for responses is 28 January.
If agreed by the Greater Manchester Police and Crime Panel, it will allow further significant investment in our frontline, recognizing the pressure that officers are under, including:
expanding our frontline numbers by an additional 325 officers – which will mean almost 1,000 more police officers in GMP since I was elected;
creating a new city-centre team concentrating on violence reduction and improving the safety of the city centre - particularly the Piccadilly Gardens area, complementing the environmental improvements being made by the City Council;
accelerating investment in equipment and clothing for frontline officers – including footwear – and enhanced training.
When we are asking more from our officers in terms of service to the public, it is right to provide them with more support to do their job and that is what we are proposing.
We will also address ongoing frontline concerns about the iOPS system, including the time it takes to input details.
I can assure our officers that we will listen to their specific issues and make fixing them a priority. I have brought in external advisors to help us with this and improvements are being made, such as to the search function last week. This process will continue.
All of this is part of a recognition that, if you get the basics right and properly support people to do their job, you create the conditions for getting the culture right throughout the organisation.
The reforms we are announcing today are about creating a culture of positive, accountable, victim-centred policing throughout Greater Manchester Police.
Even though we are asking our frontline line officers to be more contactable to the public, I would never expect them to promise things which they know are beyond what they can do.
If they can't respond immediately, I would want them to be up-front and honest with people about that. The vast majority of people will understand and know that officers have to prioritise. What the public won't accept is complaints disappearing into a black hole or excuses about a lack of resources. And nor will I.
This culture of positive policing – increased openness, honesty and accountability – should run through everything GMP does. If mistakes are made and things aren't right, it should be acknowledged up front and a commitment made to put it right. If we are honest, that hasn't always been the GMP way in the past. But, let me be crystal clear, that is what I want to see.
I am confident we can get there because, despite this, there is a lot that is right about what GMP does and I know we have thousands of dedicated people working within it who are in the job for the right reasons and provide a brilliant service to the public.
There are those who wish to run our police force down for political reasons. But I am not going to let them do that. Yes, I will challenge GMP where they need to improve. But I will also proudly stand up for them where they are getting things right – and they are in many areas.
As I said last year, the response to events at Manchester Arena has been outstanding in so many respects - from the quality of the investigation which led to a conviction to the compassionate support of the bereaved families.
Today I want to point to another: child sexual exploitation.
Within days of taking office as Mayor and Police and Crime Commissioner, I set up an independent review of historical child sexual exploitation and the activities of grooming gangs in Greater Manchester. I did this in response to public concerns raised by whistleblowers – particularly Margaret Oliver – which suggested the serious failing of victims.
The independent review – published a year ago this week – confirmed whistleblowers' concerns and I am grateful to our new Deputy Chief Constable Mabs Hussain who has led what can only be described as a sea change within GMP on this important issue.
We have now seen the launch of two major criminal investigations.
Operation Green Jacket, which concerns victims from Operation Augusta, has so far identified 71 victims, over 125 perpetrators and has resulted in a number of arrests.
Overall, there are 68 separate multiple-victim, multiple-offender investigations running across GM alongside hundreds of single victim investigations.
To support this, the force has gone further and established a dedicated, force-wide team to deal with complex CSE investigations where there are multiple victims or offenders. The team is one of the first major CSE units in the country and has been recognised by the national team that leads in this area as being best practice. We will say more about it in the coming weeks.
But we can say today that, overall, 85 offenders were convicted of CSE related offences last year with total sentences handed down up to 126 years 8 months; 10 suspects are awaiting trial for CSE-related offences and 14 awaiting sentence.
This is proof that GMP, when challenged to up its game on issues that matter to the public, does so and does so convincingly. This should give our residents' confidence that they will soon see an improvement in the service GMP provides.
In conclusion, today signals the start of a new era for our police force with a new emphasis on positive, accountable, victim-centred policing. I am grateful to the Acting Chief and all the GMP team for the work done to put us in this position and we are all ready to be rightly held to account for delivering what we have said today.
Deputy Mayor, Beverley Hughes
The Mayor has given some details already of the improvements achieved during this current financial year with the help of the precept for 2020/21 as well as what we are planning to use this coming year's precept for. I'd like to give some further details now of both last year's achievements and this year's plans.

Delivery on Budget Proposals 2021/22
The continued growth in police officer numbers, including 50 Neighbourhood Beat Officers, has enabled the provision of a named officer for every ward, as the Mayor has already outlined.
Additional police numbers in 2020/21 has also established a dedicated transport unit of 50 officers. This was meeting a call from the public who were concerned about crime and anti-social behaviour, particularly on Metrolink, and the spate of incidents experienced on certain routes into the city centre.
We've also invested in 40 additional call handlers to improve the non-emergency 101 service.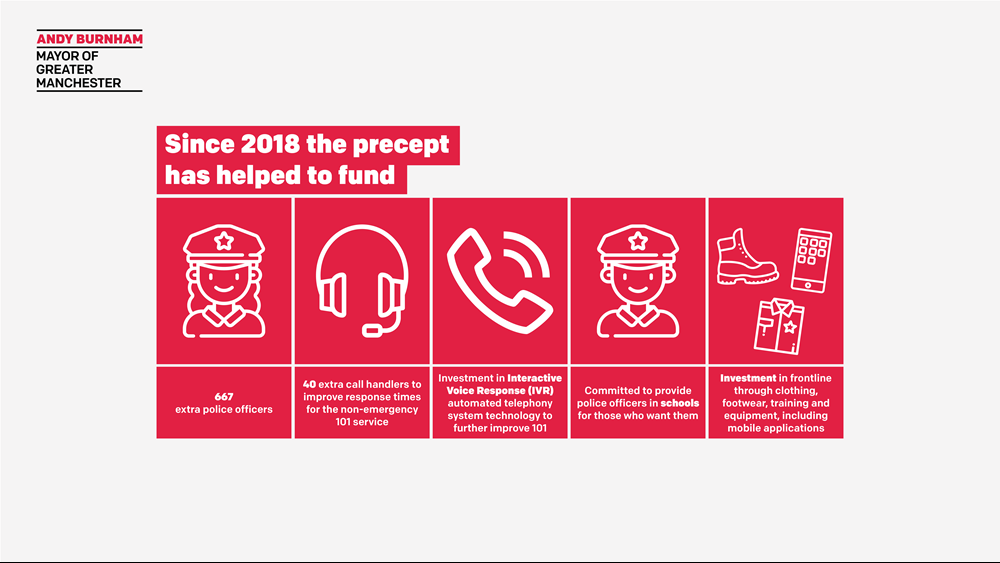 But the 101 service needed more than just more call handlers-we needed to modernise the infrastructure of that system as well. So we have also invested in IVR technology-an Interactive Voice Response automated telephony system. This is work in progress and when complete will be used to direct those who call 101 to the person best placed to be able to meet their needs more effectively. This will reduce the number of people waiting to speak to a 101 call handler and therefore reduce the waiting times for those who genuinely need to access the service.
We've invested in our frontline through clothing, footwear, training and equipment, including mobile applications for frontline officers allowing them to spend more time dealing with the public and resolving incidents, and new digital interview recording equipment.
As well as this we have committed to provide a dedicated police officer in schools for those who want them – this will be done in consultation with schools and parents. In addition, every educational establishment will be linked to a named neighbourhood police liaison officer.
Budget Proposals for 20/21
Turning now to the plans for the next financial year, we are still refining those details. However, we can confirm today a number of commitments that will be included. Many of these are focused on the priorities of improving the experience of and support to victims of crime and the prevention of violence.
We will instigate a new approach to safeguarding with 150 officers to keep our most vulnerable victims safe. Building on the developments in investigating complex sexual exploitation crimes, particularly of children, we will be establishing a dedicated new unit and hope to be able to make an announcement in the next few months.
We will establish a new city centre team concentrating on violence reduction and improving the safety of the city centre, especially in the Piccadilly Gardens area, complementing the environmental improvements being made by the City Council. It will enable the local city centre joint neighbourhood team to work 24 hours a day for the first time.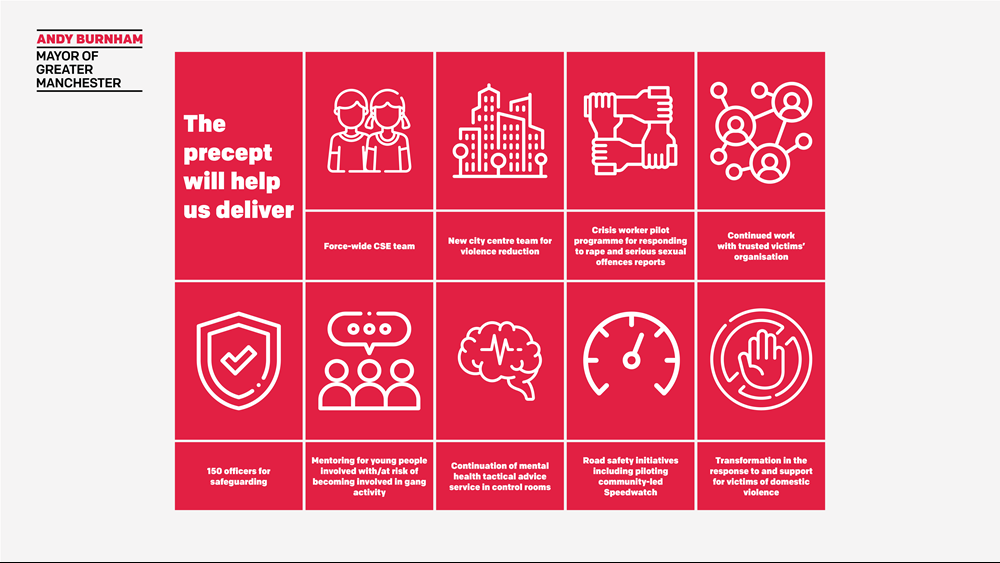 We will also be investing resources to enable more young people involved with or at risk of becoming involved in gang activity to take part in a successful mentoring programme-the STEER project- launched in partnership with Salford City Council and Greater Manchester Police and continued since with Salford Foundation, extending to all ten local authority areas. This was a direct response to a high-profile OCG murder and subsequent concerns about local young people being drawn into organised crime groups and serious violence. It is a structure intervention with a professional mentor and is being evaluated by Edge Hill University.
There will a pilot programme to ensure that a crisis worker responds alongside a police officer to reports of rape and serious sexual offences. Experience of using that approach in Operation Island, the investigation of multiple rapes by Reynhard Sinaga, suggests it may also be beneficial for victims in other serious crimes and therefore it will be piloted in the first instance for rapes and serious sexual offences reported to GMP.
It's important we understand the experience victims have of the service they receive after reporting an incident to the police. We want to establish a mechanism for a continued dialogue with victims. We will work with a trusted victims organisation to provide real time feedback on the service provided to victims and their views about it. This is linked to the recent inspection, the commitment to involve victims' groups and to introduce a new survey.
There over 40,000 reports of domestic abuse to GMP every year. We need to ensure they all get a service to a consistently high standard. Transforming the response to and support for victims of domestic violence will require new training and supervision for officers, also ensuring officers are fully trained on the powers provided by the new Domestic Abuse Bill and training officers to deal with children who may have witnessed.
Because the police continue to receive a high number of calls from people with mental health problems, and this has risen steeply during the Covid pandemic, we will continue to fund a mental health tactical advice service, where mental health nurses are based in our control rooms 24/7, 365 days a year, to ensure despatchers and attending officers are able to provide the best and most effective possible service to people suffering such distress.
We are concerned about the level of serious road traffic accidents especially in recent months including a number of fatal accidents. Analysis is underway currently and will inform a range of initiatives to reduce death and serious injury on the roads, supporting conventional enforcement with a more localized approach to educate drivers. We also know that residents in many local areas are keen to help tackle speeding and so we will be piloting a number of community-led Speedwatch schemes.
---
Article Published: 18/01/2021 13:24 PM