GMCA
Mayor Andy Burnham proposes budget which will increase police officer and firefighter numbers
Council tax increase for Greater Manchester services £7 below 2019-20 increase levels (Band B property)
Third consecutive year of recruiting more police officers
Increased resources for fire service and support for recruiting over 100 firefighters
Doing more for young people in care and Our Pass pilot for 16-18 year olds
MAYOR of Greater Manchester Andy Burnham has announced proposals for a lower council tax increase for Greater Manchester services than 2019/20 but is still able to support the recruitment of more police officers and firefighters. If agreed these will be added to local council tax bills when they are set by each of the 10 Greater Manchester councils for 2020/21.
The police element of the council tax is currently under public consultation and will be announced in February. However, under the Mayoral General Budget and precept proposals, the council tax is set to rise by £10.89 this year in Greater Manchester to £70.73 for a Band B property (£90.95 for a Band D property – an increase of £14.00).
For the 2019/20 budget, a Band B property saw total council tax increase by £25.67 with £18.67 on police and a protected fire budget (£33 total increase with £24 on police for a Band D property). The government is assuming there will be a police precept of £10 for 2020/21 and the Mayor is proposing a fire element to the precept. This will mean a proposed total increase of £18.67 for a Band B property, whilst at the same time recruiting more police officers and firefighters (£24 for Band D property).
Council tax pays for a proportion of every day local services for children, older people and places in Greater Manchester.  But part of the bill – called a precept – is assigned to the Mayor to help fund those Greater Manchester-wide services for which he is responsible.
The final budget will be presented for approval at the Combined Authority meeting on 14 February 2020.
The Mayor said: "I've had to make tough decisions in proposing this budget. I need to balance providing the vital services people in Greater Manchester need, deal with pressures from cuts by central government, and make sure the burden on council tax payers is fair. This small rise in council tax I'm proposing – which is lower than the increase in 2019/20 - is to ensure we have a fire and police service that can do the job people expect them to do, and provide support to those in our communities who need a little extra help."
Fire and Rescue Service
The Fire and Rescue Service has been under significant funding pressures caused by central government cuts since 2010. However, the Mayor is committed to keeping people safe and is therefore proposing an increase in the Fire and Rescue Service element of the Mayoral Precept of £4.86 taking it to £51.48 for a Band B property (£66.20 for a Band D property – an increase of £6.25). This will mean the recruitment of 108 firefighters in 2020/21.
This precept increase is necessary especially in light of the Bolton Cube fire and Grenfell Tower Phase 1 report. The Mayor is seeking to defer a number of operational changes in Programme for Change having listened to concerns about the original proposal and instead the current pump numbers (fire engines) will be maintained at 50. There will be a delay in the proposal to reduce crewing levels of 4 firefighters per fire engine and stick to the current arrangement of 5 firefighters for single pump stations and 4 firefighters for 2 pump stations.
Mayor Andy Burnham said: "Our Fire and Rescue Service has been hammered over the years due to funding cuts by central government – a loss of £23.8m since 2010. My priority has always been to keep people in Greater Manchester safe and that's what I'm doing by delaying operational changes to the service and recruiting 108 firefighters, funded through a slight increase in how much council tax payers contribute"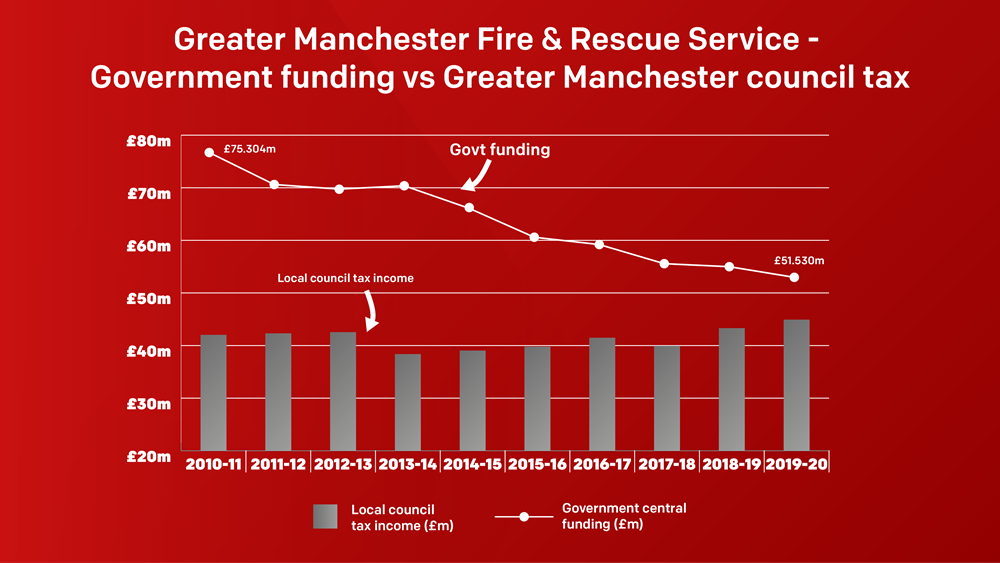 Police
The police service has suffered from years of central government cuts to funding. Around 80% of Greater Manchester Police's budget comes from a central government grant, but this has been cut by £215m since 2010, which has seen the loss of 2,000 police officers and 1,000 non-police staff. This is against a backdrop of increasing crime and complex demand such as cybercrime, child sexual exploitation and human trafficking.
In order to continue to keep people safe in Greater Manchester, the police precept has been used to mitigate some of these cuts.  Greater Manchester council tax payers have paid for an extra 350 police officers, who have been recruited over the last two years to tackle crime and keep communities safe while calls have consistently been made to government to provide more funding.
The government announced on Wednesday 22 January 2020 a £1.1 billion increase in their direct grant to fund police services. This equates to an additional £40m for Greater Manchester for 2020/21. This money has to be used to recruit the first wave of 20,000 additional police officers as part of the government's three-year police officer uplift programme. Of the 6,000 to be recruited in 2020/21, 347 of these new officers will be in Greater Manchester. The government is proposing a police precept of £10.
Deputy Mayor for Greater Manchester Bev Hughes said: "Whilst I welcome the fact that the government looks to have delivered on its promise to invest in more police officers, this announcement is long overdue and we are far from undoing the damage of the last decade that has seen local policing cut to the bone. It certainly falls far short of the £215m that's been cut from the budget in Greater Manchester since 2010, but it's a small first step in strengthening police officer numbers to a sustainable level and ensuring our police service is fairly funded.
"I will now work with Greater Manchester Police to put forward proposals on what the precept contribution to police funding will be and how this will be spent."
Local people can have their say on police funding at gmconsult.org. The survey closes at 11.59pm on Monday January 27 2020.
The precept proposal will go before the Police and Crime Panel on Friday 31 January 2020. 
Care leavers
The Mayor is proposing to provide free bus travel to care leavers up to the age of 21. This delivers on the Combined Authority's commitment in the Care Leavers Guarantee and Core Offer to provide free bus travel for 18-21 year old care leavers in Greater Manchester. This is part of a range of commitments made by the Mayor to support care leavers including a council tax exemption which came into force in April 2019.
The Mayor said: "I'm delivering on our commitment to care leavers who we know face major disadvantages in life. I want to do what I can with the powers I have to help ease some of the pressures on them by helping them get around by providing free bus travel.
"Lessons from the Independent Assurance Review into Child Sexual Exploitation in Greater Manchester that I set up, found that some children in care homes suffered terrible exploitation but were failed by the very agencies that should have protected them. Children in care are our most vulnerable and everyone should do what they can to help them get on in life."
Currently Our Pass is available to young people aged 16-18 who can take advantage of free bus travel across Greater Manchester for a one-off £10 administrative fee. At the start of January there were over 125 opportunities live on the Our Pass website. Over 37,000 cards have been issued, with holders making more than 4.2 million bus journeys since the scheme launched. On average over 250,000 journeys per week are being made by card holders.
The Mayor is proposing to continue the successful Our Pass pilot which started in September 2019.
Rough sleeping
Funding will be provided to support the Mayor's successful scheme to help rough sleepers – A Bed Every Night (ABEN).
The number of people sleeping rough in the Greater Manchester city-region has fallen by 37% in one year, confirmed through the rough sleeper count that took place in November 2019. The number of people sleeping rough has fallen from 241 in November 2018 to 151.
Since devolution in Greater Manchester in 2017 and various initiatives to tackle rough sleeping, the number of people sleeping rough has dropped 44% in two years, after increasing nearly every year since 2010. In England as a total, the number of people sleeping rough increased 269% between 2010-17 before falling by 1.5% in 2018.
ABEN provides a bed and personal support on an emergency basis to people sleeping rough who don't qualify for statutory provision. ABEN has supported nearly 3180 people with 1131 people assisted into longer term accommodation.  On 6 January, 470 people were in ABEN accommodation.
Overall costs, and what it means for my household
If the proposals are accepted, the total amount of the precept - fire and other mayoral functions, but not police - for 2020/21 will be £70.73 for the average Band B property in Greater Manchester – compared to £59.84 for 2019/20, which is an increase of £10.89.
Council tax is paid by households and is based on the value of their property. That means that some people pay more, and some pay less than the figures cited, but it's important to give an average as this gives a sense to residents of what the cost is. Nationally, averages are usually shown based on a Band D property – but in Greater Manchester the vast majority pay less as 82.6% of properties are in either Bands A, B or C. That's why we're quoting Band B here as it is the average.
The table below shows the cost to households in each of the bands:
AMOUNTS OF COUNCIL TAX FOR EACH BAND
2020/21

A

B

C

D

E

F

G

 

H

 

Costs by band – Mayoral priorities & Fire

 

£60.63

£70.73

£80.84

£90.95

£111.16

£131.37

£151.58

£181.90

Costs by band - Police

 

£138.86

£162.01

£185.15

£208.30

£254.58

£300.87

£347.16

£416.60

Proportion of properties %

 

45.6

19.6

17.4

9.2

4.8

2

1.2

0.2
---
Article Published: 24/01/2020 09:45 AM