Homelessness Health Housing
"Our groundbreaking A Bed Every Night scheme will now be extended for a year to July 2020"
Welcome to my latest homelessness blog. There's been a huge amount going on behind the scenes over recent weeks so it is good to be able to provide an update.
Thank you for taking the time to read this blog post and for your continued interest and support for ending rough sleeping in Greater Manchester. There's so much more still to do but progress is most definitely being made.
Andy
A Bed Every Night - Phase 2
So I am pleased to say it's official - our groundbreaking A Bed Every Night scheme will now be extended for a year from early July to July 2020.
I am deeply grateful to colleagues from Greater Manchester's NHS who this week agreed to commit £1.5m to make this possible. I have always said that A Bed Every Night is not perfect. So this extension marks the beginning of new phase for the scheme and, with the closer involvement of health colleagues, we are confident it will only improve.
That said, we should be extremely proud of what has been achieved so far. In total, around 1,650 people have been assisted into night shelters since the start of November and 524 have been helped to move on to a fixed address. On one night in late-May, a snapshot, 339 people were indoors. To be clear – this is not happening on this scale in any other UK city.
A Bed Every Night's funding has historically been a combination of support from the GMCA and our councils, bolstered by donations from local individuals and businesses. The Greater Manchester Mayor's Charity, formerly the Homelessness Fund, has raised a truly impressive £646,000. But I have always known the scheme needed a more secure financial footing.
We now have it. The commitment from our NHS colleagues shows how heath devolution in Greater Manchester is helping us build stronger and effective partnerships to tackle issues of shared concern. You can find more detail about it here.
To those that question why the NHS is making this commitment, I would say simply this: you cannot have good health without housing. It is entirely in keeping with the NHS founding mission to provide most help to those in greatest need.
But we are not just calling on the NHS to help. Other agencies including Greater Manchester Police and the Ministry of Justice (MoJ) are also committing financial support to our campaign to end rough sleeping. Her Majesty's Prison and Probation Service (HMPPS) plans to invest in A Bed Every Night to ensure that people are not released from prison straight to the streets as sadly sometimes happens.
The overall package of investment signals a significant shift in public services from delivering emergency provision to one with prevention at its heart. The truth is that, if we do nothing to help people sleeping rough, there will still be costs to the system in A&E visits, hospital stays and police time. 
I am proud that, here in Greater Manchester, public services are beginning to work in a different way. We should be a place which catches people as soon as they fall and helps them straight back on their feet. In the end, that is better for everyone.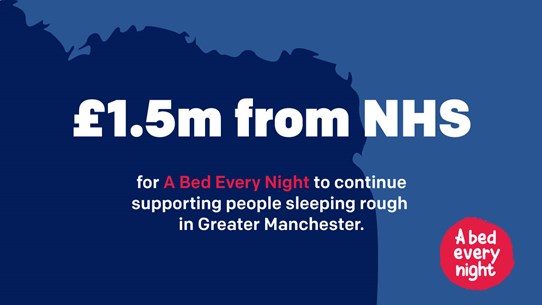 Good, affordable, safe housing
Of course, I recognise that tackling homelessness is about much more than rough sleeping, though that of course is the most visible and urgent issue thrown up by the country's housing crisis.
Lack of homes for social rent and an unregulated private rented sector, with no-fault eviction and poor quality temporary accommodation, lie at the heart of the problem.
In fact, at a homelessness event at Manchester's Mustard Tree charity last month, I made a call on Government to recognise a homelessness emergency in our country, in much the same way as Westminster has, quite rightly, been discussing the climate change emergency. We need to make access to good, safe housing a human right in UK law.
But, while we wait for Parliament to wake up to that necessity, the Greater Manchester Combined Authority (GMCA) is trying to do what it can to deal with the housing crisis. 
Earlier this week, we unveiled our city-region's Housing Strategy. Alongside a commitment to deliver at least 50,000 truly affordable homes, it includes our plans to introduce a Greater Manchester-wide Good Landlord Scheme, to be developed by working in partnership with landlords, tenants and others. 
Our aim is that landlords will be accredited as a GM Good Landlord if they maintain their properties to a decent, safe standard and treat residents fairly when it comes to rents, deposits, length of tenancies and evictions.
It is a powerful package of measure which can be read here. It represents a significant refocusing of the housing debate in Greater Manchester and we are all grateful to Salford City Mayor Paul Dennett for leading that. He has involved many people in this work – housing specialists, activists and others – and the strategy is all the stronger for that. Thank you to everyone involved.
Football Friday
As I said earlier, voluntary donations have been crucial to establishing A Bed Every Night and that will continue to remain the case. The more we are able to raise, the more we can improve the quality of what it is able to provide and the more we will be able to continue it into the future. Public sector funding does not cover the full costs and is time-limited at this point so it is vital that we maintain our fundraising efforts.
Manchester City legend Vincent Kompany's decision to step forward to help was a massive boost for A Bed Every Night and we remain hugely grateful to him for that… as well as for his goal which denied Liverpool the Premier League title! We look forward to his testimonial when we can say a proper thank you on behalf of the whole city and wish him well in his new role at Anderlecht.
In the meantime, Vincent's Tackle4MCR have another fundraising initiative for everyone to get behind. Football Friday encourages you to wear your team's colours on Friday 28 June to help tackle homelessness. By getting involved you'll be supporting young people in Greater Manchester who are at risk of, or have become, homeless. It's in partnership with Hits Radio Cash for Kids and there's more information here.
I would encourage everyone to get involved – wear your colours with pride and help us beat homelessness in our city-region.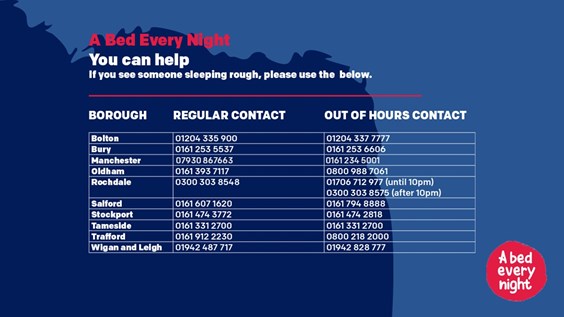 Raise the Roof
Greater Manchester is a city-region that has always revolved around our twin passions of football and music. So just as the football world came forward, it was exciting to see the city's music industry offer to help under the Raise the Roof banner.
I can confirm that, at the inaugural event at O2 Victoria Warehouse Manchester, the 3,500-strong crowd did exactly what it said on the tin. It was a brilliant night, with an amazing atmosphere, and I want to thank everyone who came. But I also want to thank everyone who put their name into the hat for tickets but we unsuccessful. Your support is appreciated. 
My main thanks, though, go to Courteeners, Blossoms, Bugzy Malone, Dr John Cooper Clarke and Lisa Stansfield for putting on an unforgettable evening, as well as the team from SJM for making it happen. 
Raise the Roof has raised tens of thousands of pounds which is a huge amount for a first event. This money has helped give us confidence to extend A Bed Every Night and that's why were so grateful to everyone who was part of it. 
People can still donate – text the word RAISE to 84988 by the end of the month to make a one-off voluntary donation of £5 or £10 to the Charity supporting A Bed Every Night. 
---
Article Published: 20/06/2019 15:36 PM