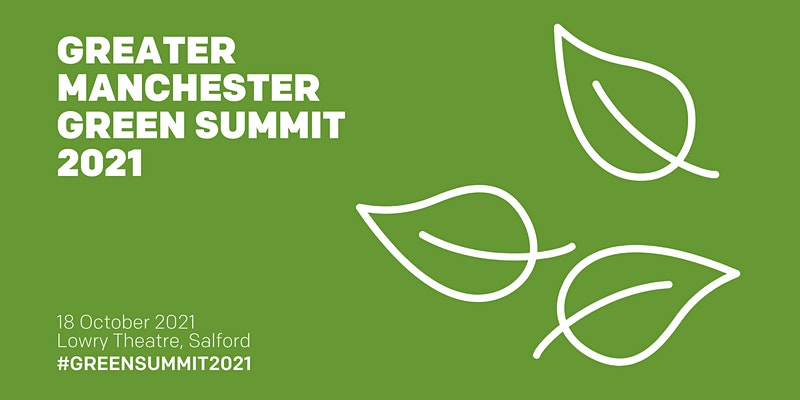 Environment
Taking action on climate change – Register now for fourth annual GM Green Summit
REGISTRATION is now open for this year's Greater Manchester Green Summit, taking place on Monday 18 October at The Lowry in Salford Quays.
The summit will be the fourth since it was established in 2018 by Mayor of Greater Manchester Andy Burnham, and will mark a return to in-person events following last year's virtual summit.
Under the theme of 'Taking Action: Today, Tomorrow and Together', the 2021 Green Summit will focus on some of the key actions, projects and activities that are happening across Greater Manchester to help deliver a carbon neutral, green city-region by 2038. It will also look ahead to what still needs to be done to achieve that goal.
As one of the first city-regions in the world to set a science-based target on carbon, Greater Manchester will be carbon neutral by 2038, achieving this by delivering an ambitious saving of 1 million tonnes of CO2e by 2024.
The Green Summit will feature sessions based around themes including smart energy, protecting and enhancing the natural environment, waste and sustainability, active transport and public transport, and community action. There will also be a range of opportunities to get involved in discussions and activities, and to explore the stalls in the marketplace.
Speakers will include:
Andy Burnham, Mayor of Greater Manchester
Cllr Neil Emmott, Green City-Region Lead for Greater Manchester
Chris Boardman, Olympic gold medallist and Cycling and Walking Commissioner
Emma Howard Boyd, Chair of the Environment Agency
Zamzam Ibrahim, Vice President of the European Students' Union and co-founder of Students Organising for Sustainability
Cel Spellman, actor and broadcaster
Click here to register for your free ticket (opens link in new tab).
The full programme will be released soon at www.gmgreencity.com (opens link in new tab).
Andy Burnham said: "The climate crisis represents the single biggest challenge we face right now. It touches on every aspect of our lives, from how we power our homes to how we protect our natural environment; from how we get around our towns and cities, to how we create the jobs and skills we need. This year's Green Summit will demonstrate how Greater Manchester's businesses, communities, universities and public sector are rising to that challenge and working together to accelerate change.
"I believe that a low-carbon economy is a levelled-up economy – one where we can create and secure good green jobs across all sectors, and invest in carbon reduction to tackle inequality and improve the quality of life for people across Greater Manchester. It will allow us to connect our communities through a world-class integrated transport system, foster a healthier environment, and tackle issues like fuel poverty and poor-quality housing.
"Over the next decade, if we accelerate our response to the climate crisis, we can create thousands of good jobs, improve homes, overhaul our transport system, and make this an even better place to live."
Cllr Neil Emmott, GMCA Lead for the Green City-Region, said: "Greater Manchester has always been at the centre of innovation. We are the first and the largest city-region to develop smart local energy plans focused on local energy generation, which is key to decarbonising our energy systems and securing the supply of greener energy.
"Our Metrolink already runs on renewable energy, and it's our ambition for 50 per cent of our bus fleet to be zero-emission by 2027, rising to 100 per cent by 2032 – a significant step towards creating the country's first zero carbon integrated network. This year's Green Summit will celebrate the positive changes that are taking place across the city-region to enable us to realise our net zero ambition."
---
Article Published: 04/10/2021 11:27 AM