Winning photos appear on billboards, on postcards and online
Images aimed at tackling negative stereotypes
The winners of a photography competition aimed at challenging negative stereotypes of older people will have their work shown to thousands of people from this week.
Six striking images that celebrate the diversity of older people's lives and their contributions to society will be shown on digital billboards in each of Greater Manchester's 10 boroughs from Monday (18 January 2021).
Twelve winning entries in the Old Frame New Picture competition will also feature on a set of postcards and a total of 41 shortlisted images will be displayed in an online exhibition. This set of pictures will also be made available as an image library to charities and public sector organisations in Greater Manchester to use in their marketing and communications materials.
Organisers hope that the positive images of older people will counter the often negative and stereotyped images of ageing that show older people as frail, vulnerable and in need.
The competition was organised by Greater Manchester Older People's Network, Greater Manchester Ageing Hub and voluntary and community sector support organisation Macc. It is part of the Valuable, Not Vulnerable campaign that aims to celebrate the contribution of older people and to challenge negative stereotypes using accurate and realistic images and stories.
The winners are: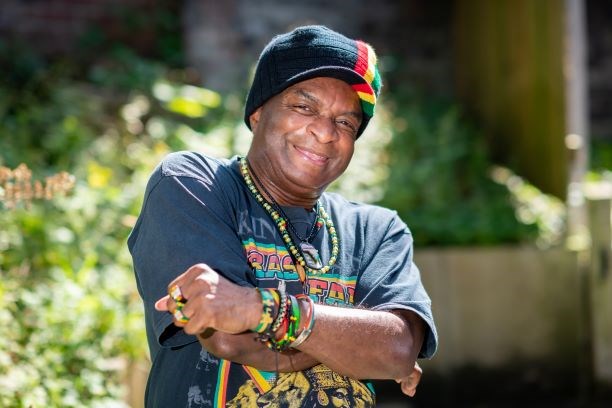 First: "A proud man", taken by professional photographer Darren Robinson of First Choice Homes Oldham tenant Danny Coley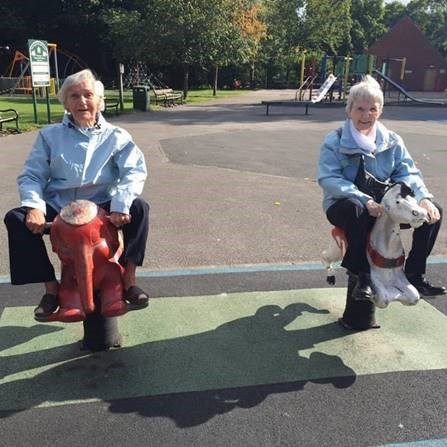 First runner up: "Birthday girls' day out", by amateur photographer Lydia Fernandez-Arias, of Maureen Maunsell, left, and Sheila Wallin enjoying themselves on a children's playground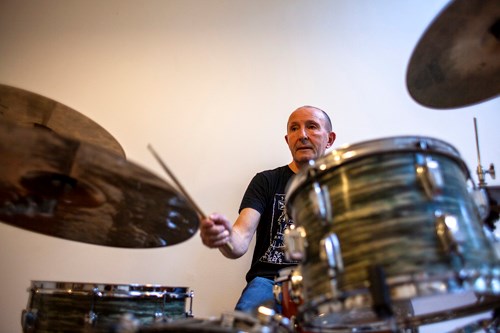 Second runner up: "Pulse", by amateur photographer Sabrina Fuller of her partner Eddie Sherwood, a drummer who used to play with bands Simply Red and Inner Sense
Darren took the picture of Danny as part of a commission for First Choice Homes during the summer to thank tenants and celebrate their contribution during the lockdown restrictions.
Darren said: "Danny kept saying how proud he was to have been asked to have his photo taken. He is a bit of a character and was so full of energy and enthusiasm - it was great to be able to capture that through this photo."
Danny, aged 65, said: "I am what you would class as a 'lover of life'. Life is what you make it and my glass is always half full.
"You'll usually find me singing, dancing or laughing. I used to sing reggae on the Oldham pub circuit and my name was 'Mr Entertainer' – and I still am.
"I think smiling and staying upbeat is what keeps me young!"
Lydia took her photo on her mobile phone during a day out with Maureen, who she visits regularly as through the befriending charity the Cyril Flint Trust. They went out to celebrate the birthdays of Maureen, who is 88, and Lydia's aunt Sheila, who is 84.
Lydia said: "We had a lovely day out in the park and then these two old ladies got on the rockers and were having such fun.
"It's just two old women being silly and I thought it was so positive, they are just enjoying simple pleasures."
Sabrina's partner Eddie, aged 66, continues to play in a band as an amateur but has moved professionally from playing with bands to being a percussion teacher and performer.
She said: "Eddie is a lifelong professional musician and I'm busy working as an artist. We haven't slowed down and, importantly, we've carried on learning from others, always developing.
"Eddie and I both work in regular partnership with younger people. We all respect and enjoy each others' contributions."
Entries to the competition were judged under six categories:
activism
supporting my community
old and proud
friends and family
taking part
self-portraits (including selfies)
The judges included leading photographer Alex Rotas, who specialises in challenging ageing stereotypes through photography; Virginia Tandy, Director of CADA, the Creative Ageing Development Agency; Helen Wewiora, director of the Castlefield Gallery; Mike Sweeney, BBC Radio Manchester broadcaster; and Jai Chuhan, a visual artist, winner of the bOlder prize at the Manchester Open and a member of the Greater Manchester Older People's Network.
Old Frame New Picture is funded by the Arts Council, National Lottery Heritage Fund and Ambition for Ageing as part of a series of projects harnessing the arts and creativity to support Greater Manchester's ambitions to be the best place in the UK to grow old.
Brenda Warrington, Greater Manchester lead for age-friendly and equalities, said: "It's been great to see such a hugely diverse range of photographs that celebrated the many different ways older people contribute to our society.
"The pandemic has been particularly difficult for older people but in spite of this we have also given so much that is positive, in their neighbourhoods and families.
"The photos gathered through this competition show how older people continue to find joy in everyday life and enrich the lives of their families, friends and communities."
The online exhibition of all 41 shortlisted images can be found on the Greater Manchester Older People's Network website (opens in new tab).
The billboards can be found at transport interchanges run by Transport for Greater Manchester and outside Tesco stores in:
Woodfield Retail Park, Bury
Mansell Way, Horwich, Bolton
Hyde Road, Gorton, Manchester
Featherstall Road Chadderton, Oldham
Silk Street, Rochdale
Pendleton Way, Salford
Tiviot Way, Stockport
Trinity Street, Stalybridge, Tameside
Chester Road, Stretford, Trafford
Central Park Way, Wigan
---
Article Published: 18/01/2021 09:45 AM