Winterwise guide
As the costs of energy, food and other bills continue to rise, the coming months are expected to be difficult for many older residents across the city-region.
National older person's charity Independent Age has released this year's edition of the Winterwise guide with new and updated information on how to stay well during the winter period.  
The guide brings together key information for older people on cost of living support with messages focusing on three themes - 'Staying warm', 'Staying safe' and 'Staying well'. 
'Stay warm' – Providing information about the financial support that older people could access to help them with rising energy costs
'Stay safe' – Focusing on home safety advice for older people, including fire safety, how to spot and report scams, and what to do if they fall
'Stay well' – Tips and advice on mental health and wellbeing, eating well and keeping active
Resources 2023/24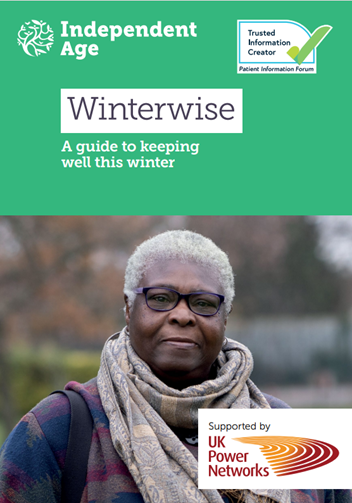 Winterwise - A guide to keeping well this winter (PDF, 4.48MB)
Winterwise - Audio guide (external link)
Winterwise - Large print version (available on request)
The guide also builds on the Pension Top Up campaign (internal webpage), which encourages older residents to check they are getting all of the financial support to which they are entitled. 
In Greater Manchester, £70 million goes unclaimed each year in Pension Credit alone, while many older residents are also missing out on Attendance Allowance, Housing Benefit, Council Tax Benefit and other entitlements – all of which could make a big difference to their weekly income and provide extra support for the rising living and energy costs.
To get a physical copy for yourself, your loved ones or older people you are supporting, please look out for local distributions such as at libraries, pharmacies, warm hubs and more, or call Independent Age on 0800 319 6789. You could also call your local council's dedicated cost of living phone line for more advice and support.
The Greater Manchester Ageing Hub partnered with Independent Age last year to launch Winterwise and more than 300,000 printed guides were distributed across Greater Manchester.
With the support from Talking About My Generation (external website) – the first older person's led newsroom in the UK, a video has been produced with older residents in Greater Manchester to promote the guide.
Winterwise Talking Tips
With the cost of living rising in Greater Manchester, it's important that we help each other be Winterwise - especially those older people not online. Here some talking tips for frontline workers, volunteers, family or friends to help the conversation go well.
"How are you doing today?"
"Are you warm enough at home?"
"Are you able to get the food you need?"
"Are you managing to stay active?"
"So much is online now - do you need help to get anything sorted?"
"Do you know about community warm spaces in your area?"
Stay Warm
Have you checked you're getting all the financial support you are entitled to?
Did you know your local council has a dedicated phone number for cost-of-living support and advice?
Energy Support
Support is available if you need help heating your home this winter - call your local council.
Your energy supplier may have grants towards heating costs - speak to them to find out more.
Pension Credit
You might be entitled to extra money once you've reached state pension age.
Pension Credit acts as a passport to other entitlements, such as cold-weather payments, council tax reductions, and help with health costs.
You could be entitled, even if you own your home or have savings.
For more information, visit the Independent Age website or call the Independent Age helpline on 0800 319 6789 for a free guide or confidential benefits check.
Resources 2022/23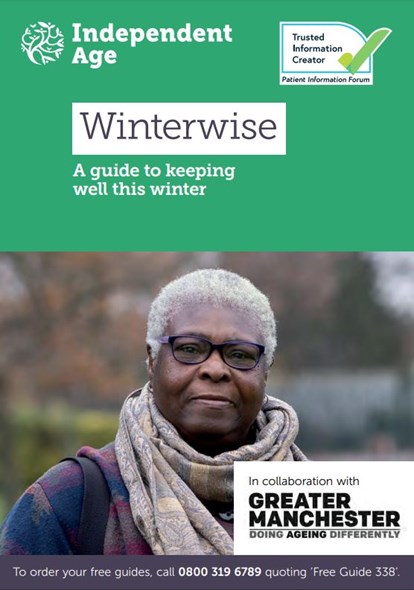 Winterwise - Talking Tips Guide - For Good Conversations with Older People (PDF, 112KB)
Winterwise - A Guide to Keeping Well This Winter (PDF, 3.36MB)
Winterwise easy-read version (PDF, 1.18MB)
Winterwise Guide – Translated into Urdu (PDF, 48.8MB)
Winterwise Guide – Translated into Bengali (PDF, 11.4MB)
British Sign Language (BSL) Winterwise guide - easy read version video 
Additional support
Greater Manchester is providing a helping hand for residents during the cost of living crisis - find out more on GMCA's Helping Hand webpage. 
The 'Doing Digital in Later Life' guide (internal webpage) has been produced as part of the Greater Manchester's commitment to tackling the digital divide, supporting over-75's with the skills, connectivity, and technology to participate digitally.