Gambling
In Greater Manchester we are thinking differently about gambling by working to prevent and reduce the negative impacts of gambling on individuals, families and communities. Gambling can have serious consequences for finances, relationships and health, with one in 15 residents of Greater Manchester experiencing harm.
Gambling includes activities such as: betting on sports, casino games, playing bingo or buying scratchcards. This may be online, in licensed premises, or between friends. Some elements of gaming have similarities to gambling, such as buying loot boxes or trading skins.
We are bringing together partners from across the 10 localities in Greater Manchester as part of our innovative public service reform and population health agenda to prevent and reduce gambling related harms in our communities.
"Gambling took so much more from me than money. It took my happiness, my motivation, my self-worth, my decency, my self-respect and it took my freedom."
Gambling harm reduction priorities
Our work is aligned around four key priorities:
Our action plan
The GMCA's work is supported by the Gambling Commission as part of the National Strategy to Reduce Gambling Harms (external site) and funded by a regulatory settlement with an industry operator.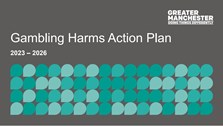 To learn more about our plans to address gambling harms in Greater Manchester, view the full action plan for 2023-2026 (PDF, 1.6MB).
Our ask of the UK Government
Robust national regulation is needed to protect people from harm in an increasingly online environment. We are working with residents and campaigners to put pressure on Government to proactively prevent and reduce gambling related harms.
The UK Government is currently undertaking a long overdue review of gambling regulation. We set our priorities for action in a response to a DCMS committee inquiry into gambling regulation. The Government is currently consulting on a series of proposals outlined in a White Paper (High Stakes: gambling reform for the digital age).
GMCA welcomes the inclusion of gambling within the Government's Suicide Prevention Strategy: 2023 to 2028. We will work alongside DCMS, DHSC, Gambling Commission, NICE, the Local Government Association and the Royal College of Psychiatrists to ensure that milestones committed to in the strategy are effectively delivered to prevent suicides related to gambling.