Unseen Voices Exhibition
Unseen Voices is the result of a year of work from the Changing Futures team at Greater Manchester Combined Authority (GMCA) and not-for-profit video production company BADKAMRA. The teams worked with 12 people from the city-region who have experienced multiple disadvantages and barriers, ranging from people with disabilities to those who have been in the care system.
The project aimed to showcase their experiences and difficulties of navigating Greater Manchester services, with the findings to be used to transform services and make improvements for people who face disadvantages. Rather than displaying the results in a document or online, the team decided to host an exhibition at HOME, in Manchester city centre, where the participants told their stories through spoken word, poetry, film or other art forms. 
Two sessions of Unseen Voices took place on Wednesday, 19th July. You can view the brochure of the participants involved in the exhibition below: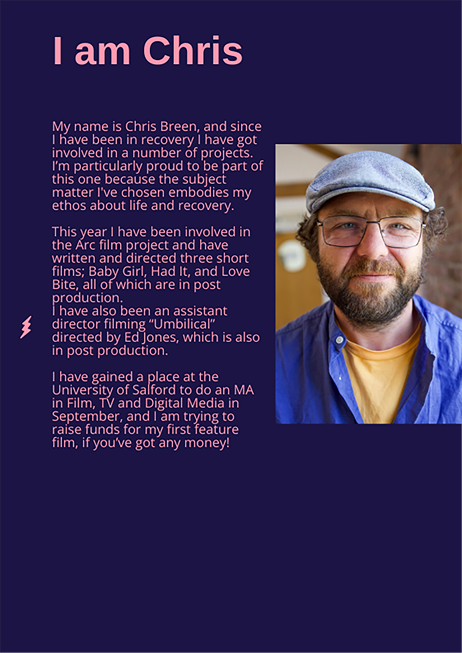 I am Chris. My name is Chris Breen, and since I have been in recovery I have got involved in a number of projects. 
i am particularly proud to be part of this one because the subject matter embodies my ethos about life and recovery. 
This year I have been involved in the Arc film project and have written and directed three short films; Baby Girl, Had It and Love Bite, all of which are in post production. I have also been an assistant director filming 'Umbilical' directed by Ed Jones, which is also in post production. I have gained a place at the University of Salford to do an MA in Film, TV and Digital Media in September, and I am trying to raise funds for my first feature film if you've got any money.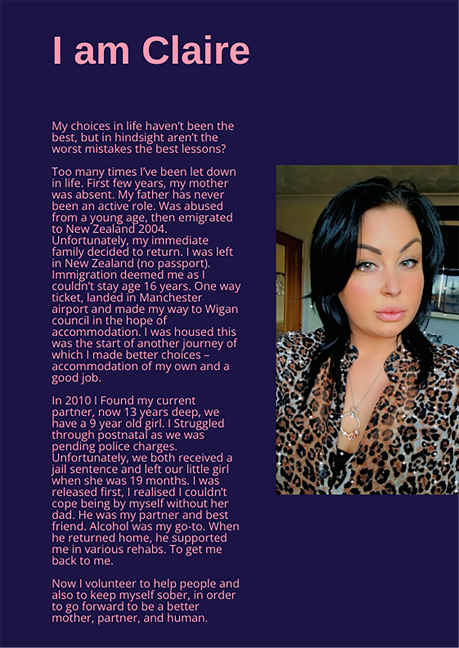 I am Claire. My choices in life haven't been the best, but in hindsight aren't the worst mistakes the best lessons? 
Too many times I've been let down in life. First few years, my mother was absent. My father has never had an active role. Was abused from a young age, then emigrated to New Zealand 2004. Unfortunately, my immediate family decided to return. I was left in New Zealand with no passport. Immigration deemed me as I couldn't stay aged 16 years. One way ticket, landed in Manchester Airport, and made my way to Wigan Council in the hope of accommodation. I was housed, this was the start of another journey of which I made better choices - accommodation of my own and a good job.
In 2010 I found my current partner, now 13 years deep, we have a nine year old girl. I struggled through postnatal as we had pending police charges. Unfortunately, we both receive a jail sentence and left our little girl when she was 19 months. I was released first, I realise I couldn't cope being by myself without her dad. He was my partner and best friend. Alcohol was my go-to. When he returned home, he supported me in various rehabs. To get me back to me.
Now I volunteer to help people and also to keep myself sober, in order to go forward, to be a better mother, partner and human.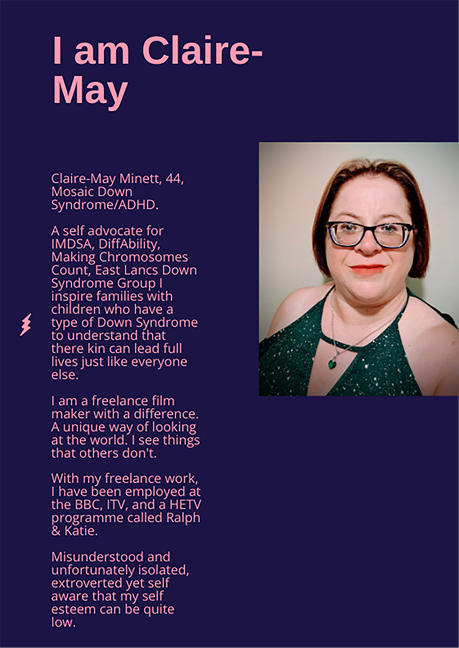 I am Claire-May. Claire-May Minnett, 44, Mosaic Down Syndrome/ADHD. 
A self advocate for IMDSA, DiffAbility, Making Chromosomes Count, East Lancs Syndrome Group I inspire families with children who have a type of Down Syndrome to understand that there kin can lead full lives just like everyone else. I am a freelance film maker with a difference. A unique way of looking at the world. I see things that others don't.
With my freelance work, I have been employed at the BBC, ITV and a HETV programme called Ralph & Katie. Misunderstood and unfortunately isolated, extroverted yet self aware that my self esteem can be quite low.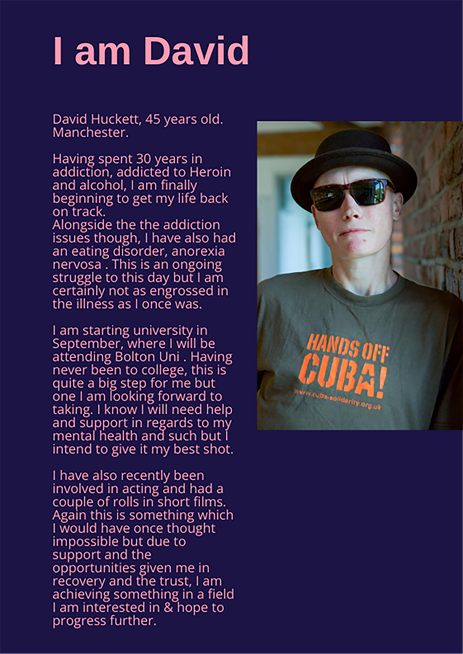 I am David. David Huckett, 45 years old. Manchester.
Having spent 30 years in addiction, addicted to Heroin and alcohol, I am finally beginning to get my life back on track. Alongside the addiction issues though, I have also had an eating disorder, anorexia nervosa. This is an ongoing struggle to this day, but I am certainly not as engrossed in the illness as I once was.
I am starting university in September where I will be attending Bolton Uni. Having never been to college, this is quite a big step for me but one I am looking forward to taking. I know I will need help and support in regards to my mental health and such but I intend to give it my best shot.
I have also been recently involved in acting and had a couple of rolls in short films. Again, this is something which I would have one thought impossible, but due to the support and opportunities given me in recovery and the trust. I am achieving something in a field I am interested in and hope to progress further.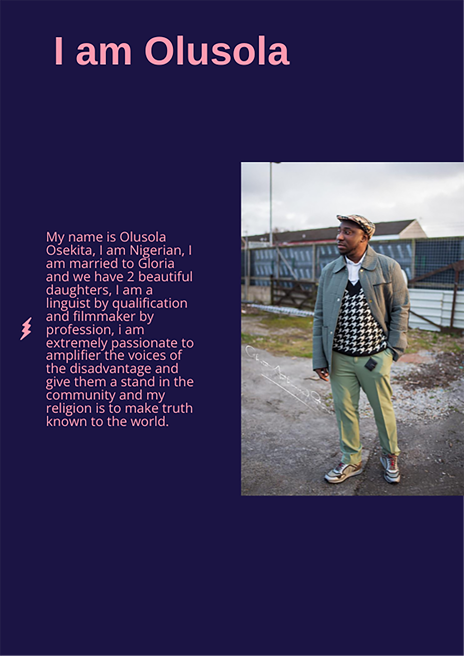 I am Olusola. My name is Olusola Osekita. I am Nigerian, I am married to Gloria and we have 2 beautiful daughters. I am a linguist by qualification and filmmaker by profession. I am extremely passionate to amplify the voices of disadvantaged and give them a stand in the community and my religion is to make truth known to the world.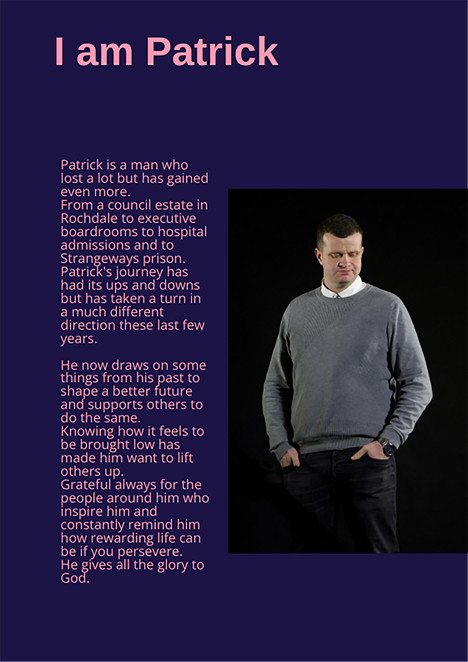 I am Patrick. Patrick is a man who lost a lot but has gained even more. From a council estate in Rochdale to executive boardrooms to hospital admissions and to Strangeways Prison. Patrick's journey has had its up and downs but has taken a turn in a much different direction these last few years.
He now draws on some things from his past to shape a better future and supports others to do the same. Knowing how it feels to be brought low has made him want to lift others up. Grateful always for the people around him who inspire him and constantly remind him how rewarding life can be if you persevere. He gives all the glory to God.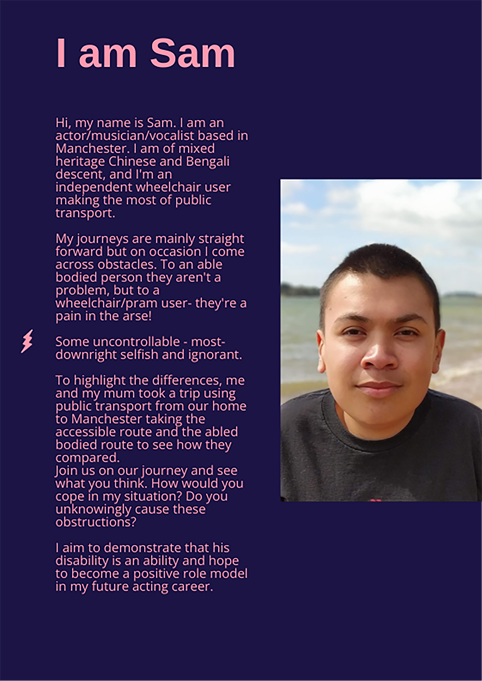 I am Sam. Hi, my name is Sam. I am an actor/musician/vocalist based in Manchester. I am of mixed heritage, Chinese and Bengali descent, and I'm an independent wheelchair user making the most of public transport.
My journeys are mainly straight forward but on occasion I come across obstacles. To an able bodied person they aren't a problem, but to wheelchair/pram user - they're a pain in the arse!
Some uncontrollable - most downright selfish and ignorant. To highlight the differences, me and my mum took a trip using public transport from our home to Manchester taking the accessible route and the able bodied route to see how they compared. Join us on our journey and see what you think. How would you cope in this situation? Do you unknowingly cause these obstructions?
I am to demonstrate that this disability is an ability and hope to become a positive role model in my future acting career.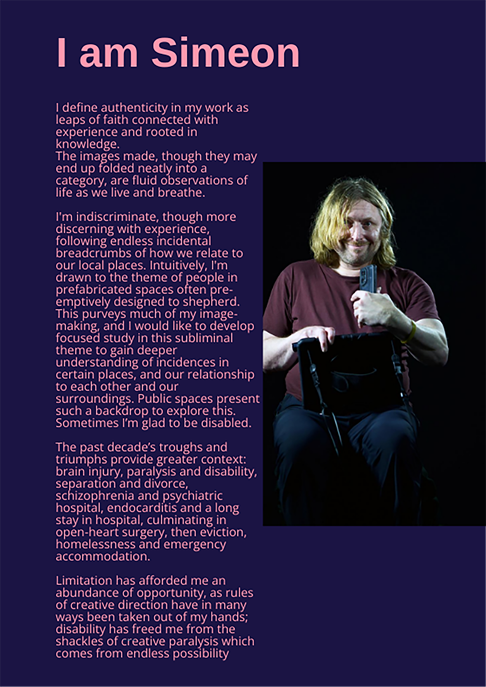 I am Simeon. I define authenticity in my work as leaps of faith connected with experience and rooted in knowledge. The image's made though they may end up folded neatly into a category, are fluid observations of life as we live and breathe.
I'm indiscriminate, though more discerning with experience, following endless incidental breadcrumbs of how we relate to our local places. Intuitively, I'm drawn to the theme of people in prefabricated spaces often pre-emptively designed to shepherd. This purveys much of my image-making, and I would like to develop focussed study in this subliminal theme to gain deeper understanding of incidences in certain places, and our relationship to each other and our surroundings. Public spaces provide such a backdrop to explore this. Sometimes I am glad to be disabled.
The past decade's troughs and triumphs provide greater context: brain injury, paralysis and disability, separation and divorce, schizophrenia and psychiatric hospital, endocarditis and a long stay in hospital, culminating in open heart surgery, then eviction, then homelessness and emergency accommodation.
Limitation has afforded me an abundance of opportunity, as rules of creative direction have in many ways been taken out of my hands; disability has freed me from the shackles of paralysis which comes from endless possibility.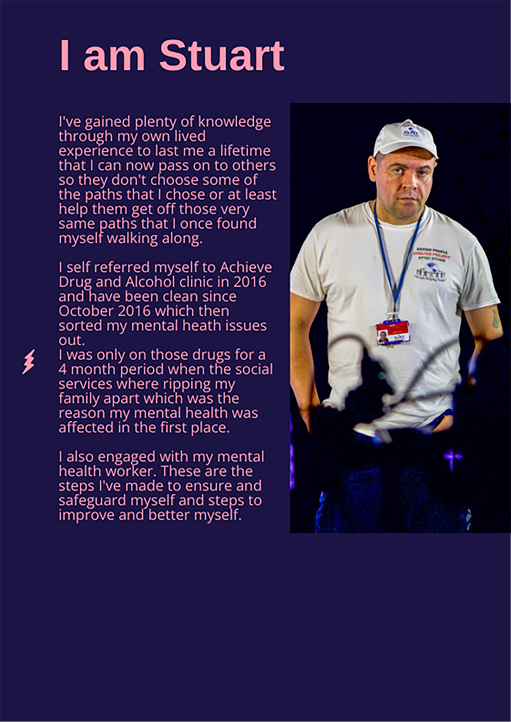 I am Stuart. I've gained plenty of knowledge to through my own lived experience to last me a lifetime that I can now pass onto others so they don't choose some of the paths that I chose or at least help them get off those very same paths that I once found myself walking along.
I self referred myself to Achieve Drug and Alcohol Clinic in 2016 and have been clean since October 2016 which then sorted my mental health issues out. I was on those drugs for a four month period when the social services were ripping my family apart which was the reason my mental health was affected in the first place.
I also engaged with my mental health worker. These are the steps I've made to ensure and safeguard myself and steps to improve and better myself.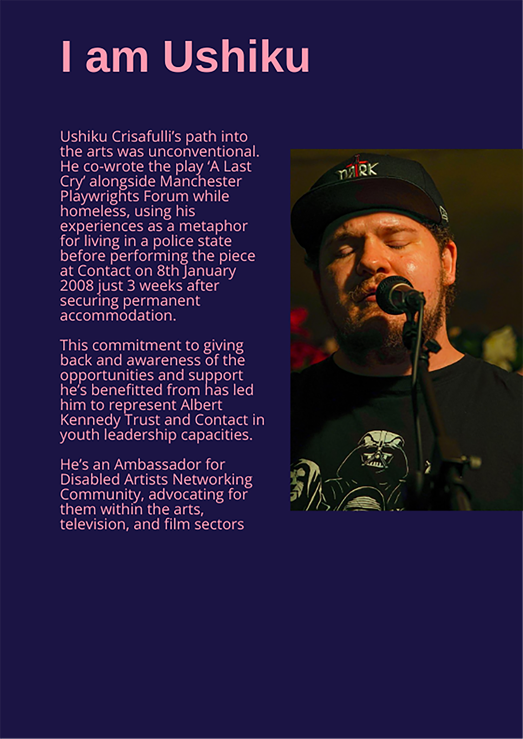 I am Ushiku. Ushiku Crisafulli's path into the arts was unconventional. He co-wrote the play 'A Last Cry' alongside Manchester Playwright's Forum while homeless, using his experiences as a metaphor for living in a police state before performing the piece at contact on 8th January 2008 just three weeks after securing permanent accommodation.
This commitment to giving back and awareness of the opportunities and support he's benefitted from has led him to represent Albert Kennedy Trust and Contact in youth leadership capacities.
He's an ambassador for Disabled Artists Networking Community, advocating for them within the arts, television and film sectors.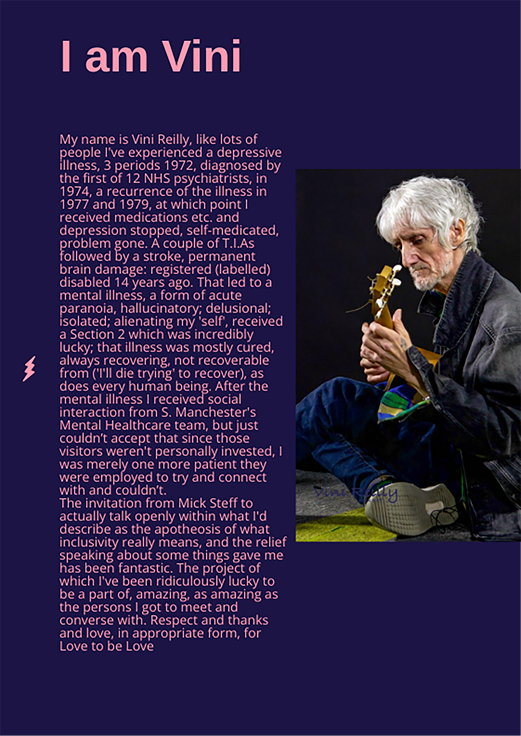 I am Vini. My name is Vini Reilly, like lots of people I have experienced a depressive illness, 3 periods 1972, diagnosed by the first of 12 NHS psychiatrists, in 19774 a recurrence of the illness in 1977 and 1979 at which point I received medications etc. and depression stopped, self-medicated, problem gone.
A couple of T.I.As followed by a stroke, permanent brain damage: registered (labelled) disabled 14 years ago. That led to mental illness, a form of acute paranoia, hallucinatry, delusional, isolated, alienating my 'self', received a Section 2 which was incredibly lucky; that illness was mostly cured, always recovering, not recoverable from (I'll die trying to recover) as does every human being. After the mental illness I received social interaction from S Manchester's Mental Healthcare team, but just couldn't accept that since those visitors weren't personally invested, I was merely one more patient they were employed to try and connect with and couldn't.
The invitation from Mick Steff to actually talk openly within what I'd describe as the apotheosis of what inclusivity really means, and the relief speaking about some things gave me has been fantastic. The project, of which I've been ridiculously lucky to be a part of as amazing as the persons I got to meet and converse with. Respect, and thanks and love, in appropriate form, for love to be love.