Greater Manchester International Strategy
The One Year Greater Manchester International Strategy builds on our ambitions laid out in the 2017 Internationalisation strategy and looks to address the most pressing challenges affecting our international ambitions today in light of the current pandemic and new geo-political landscape, coordinating efforts across Greater Manchester to ensure we deliver on our long-term vision of becoming a top global city-region.
Built on eight strategic priorities, the strategy outlines a series of objectives aimed at improving our connectivity, through the development of new relationships as well as and further digital and air connectivity, increasing trade and investment, furthering our global research and innovation partnerships and continuing to attract international students and visitors to the city-region.
Despite the challenges that lie ahead, Greater Manchester is a place that recognises the transformational impact international engagement can bring to local areas as well as the vital importance of re-building our global links to support the city-regions economic recovery.
Greater Manchester International Strategy (pdf)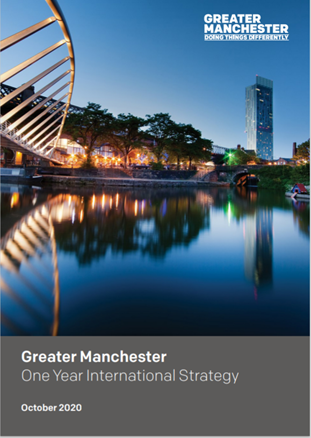 Global Networks
To support our international ambitions, we participate in a number of global networks:
Our Partners
GMCA International Projects