Standing Together Plan for Greater Manchester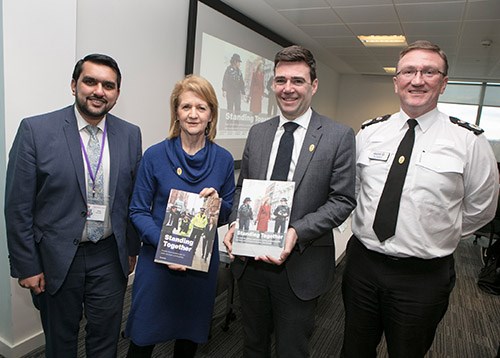 STANDING TOGETHER: A PLAN FOR POLICE, COMMUNITY SAFETY, CRIMINAL JUSTICE SERVICES AND CITIZENS IN GREATER MANCHESTER
The Mayor of Greater Manchester is responsible for setting the direction for policing and community safety in our city-region and has published (March 20, 2018) the new Police and Crime plan to build a safer and stronger Greater Manchester.
"Standing Together", sets out the key priorities for building community safety across Greater Manchester over the next three years.
Produced in partnership with a wide range of people and organisations across Greater Manchester, the plan is aimed at everyone with a stake in community safety – not only the police, but also the criminal justice system, the health services local councils, voluntary groups and local people.
It comes as Mayor Andy Burnham and Deputy Mayor for Policing and Crime Bev Hughes have restated their commitment to community safety by increasing policing numbers in Greater Manchester for the first time in eight years, pledging to protect Police Community Support Officer numbers, and promising to make improvements to the non-emergency 101 number.
Watch the video below of Deputy Mayor, Beverley Hughes speaking at the launch of the plan:
 
The three-year strategy focuses on three main priorities:
To keep people safe

 

- for those who live, work, socialise and travel in Greater Manchester, as well as protecting those who are vulnerable.
To reduce harm and offending

 

– preventing anti-social and criminal behavior by intervening earlier and rehabilitating offenders.
To strengthen communities and places –

 

by helping to build resilient communities and strengthening the delivery of public assets.
The plan's publication follows an extensive consultation and engagement process with the people who use the services, as well as the wide variety of people in different organisations who provide them. This includes police, local authorities, community safety partners, health services and voluntary and community groups.
Read more about the launch of the Standing Together plan
Download the Standing Together summary document 
Download the Police and Crime Plan -  'Standing Together'
Watch more videos below from the Standing Together launch event: