Social value commitments
SUEZ operates the Greater Manchester waste disposal contracts on behalf of GMCA. 
As well as operating the waste treatment facilities and 20 household waste recycling centres; SUEZ developed an extensive set of 54 social value commitments which include 3 Renew shops and the Renew Hub. The shops sell pre-loved household items, and the money goes to 2 good causes; the Greater Manchester's Mayor charity and the R4GM Community fund.
As a result of this leadership, Suez are now members of the Greater Manchester Good Employment Charter, and social value will now be considered as part of the procurement process for all Greater Manchester services, encouraging organisations to consider how their activities can bring further benefits to their local areas and communities.
Read the latest social value newsletter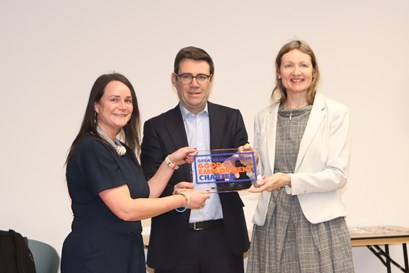 Volunteering
This year SUEZ are encouraging all colleagues to take a 'Day a Year to Volunteer'. Aside from supporting local projects, SUEZ will donate £5 to Macmillan for every person who volunteers. The team across Greater Manchester have so far spent time volunteering with Mountain Rescue, Manchester Dogs Home, and transforming the outdoor space of a primary school in Bolton which was hit by flooding last year.
Apprenticeships
In July, three apprentice maintenance technicians and one business administration apprentice joined the Greater Manchester team. We are still recruiting for another business administration apprentice to be based at Higher Swan Lane in Bolton.
Recycle for Greater Manchester community fund
The Recycle for Greater Manchester Community Fund is a joint SUEZ and R4GM initiative to support Greater Manchester community and voluntary sector groups. The fund helps to deliver projects aimed at reducing household waste, increasing recycling and encouraging reuse, and is funded through the sales from Renew.