Creative Care Kits for Young People
The Creative Care Kits initiative is led by GMCA and since June 2020 has seen around 22,000 Creative Care kits (first edition) distributed to young people who are not online, and so may have been feeling more isolated and lonely as we entered the COVID-19 pandemic.
Each kit contains 36 pages of activities, hints and tips on protecting young people's mental wellbeing and a set of art materials. As well as giving young people something to do, the kits helped to create a sense of connection at a time when they are were not able to rely on face-to-face interactions.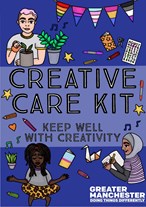 Front cover of Creative Care Kit
(first edition)
Download the first edition Creative Care Kit booklet (pdf)
New for autumn 2020 - Creative Care Kits for young people second edition
The second edition Creative Care Kit for young people builds on the first version, but with a more of a focus on the kinds of things young people can do to get their voices heard, make changes for the better in their communities, and to find and act on their own passions.
The kit is designed for 13-20-year-olds, particularly those who face challenges accessing online resources and who need extra support at the moment and features a number of young people including our very own Youth Advisory Group member Oliva.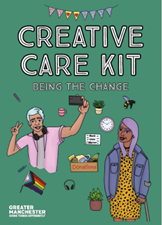 Front cover of Creative Care Kit
(second edition)
Download the second edition Creative Care Kit booklet (pdf)
The latest kit is split into three themes: Being in the World, Being Myself and Being the Change. Each section includes activities to introduce and explore each topic, real life experiences of young people, and information about how you can get involved.
For many young people, life today isn't what they expected it to be a year ago. But as well as acknowledging missed opportunities and disappointment, we also have a chance to do things differently for ourselves and in the wider world.
This kit is full of ideas, stories and activities, which at the very least will help you pass the time and may even inspire you to be the change you'd like to see in the world.
Creative Care Kits and other useful resources, information and support on offer to young people will be highlighted as part of the work carried out by the Youth Task Force and are directly linked to key priorities of the Task Force's Keeping Connected and Staying Well groups.
If you would like to contact our Culture colleagues about the Creative Care Kits please use Twitter: @GM_Culture #GMcreativekits or email: CultureTeam@greatermanchester-ca.gov.uk.