Local Full Fibre Network
Greater Manchester Local Full Fibre Network (LFFN) Programme
In March 2020, we secured world-class digital infrastructure through biggest government full-fibre investment in the UK, through the appointment of Virgin Media Business up to 2,700km of new fibre optic broadband infrastructure will be delivered across the region. The £23.8M Local Full Fibre Networks Programme will connect more than 1,500 public sites across the city-region.
In addition, some sites in Salford and Manchester will see their connectivity upgraded and a further 36 public sites will be connected through the innovative Tameside Cooperative, enhancing Greater Manchester's position as a leading European digital city region.
This is the result of close partnership working between Greater Manchester Combined Authority, Greater Manchester's local authorities, Fire & Rescue Services and Transport for Greater Manchester and is backed by millions of pounds of funding from central government.
This new investment, plus existing local authority investments in digital infrastructure, make this the UK's largest Local Full Fibre Networks Programme and will underpin a wide range of digital transformation and smart city projects.
Social value
As part of Greater Manchester's full fibre roll out, our partners Virgin Media O2 Business have:
Created 38 new Greater Manchester based apprenticeship opportunities – 90% ahead of original target
Exceeded local employment target, with an average 78% of the LFFN workforce based in Greater Manchester
Installed connectivity, free for five years, in 17 community sites across Greater Manchester
Supported the Greater Manchester Technology Fund. The fund provides learners at risk of digital isolation with the technology and connectivity needed to continue their learning at home
Donated £100,000 to the Greater Manchester Mayor's Charity
Made a £25,000 donation to support the Future Workforce Fund in partnership with GMCA and The Prince's Trust
Since January 2021, Virgin Media staff have volunteered over 1,000 hours across Greater Manchester. A combination of dedicated support under the rollout of full fibre, as well as Greater Manchester based Virgin Media Business employees making great use of paid volunteering days to support their local communities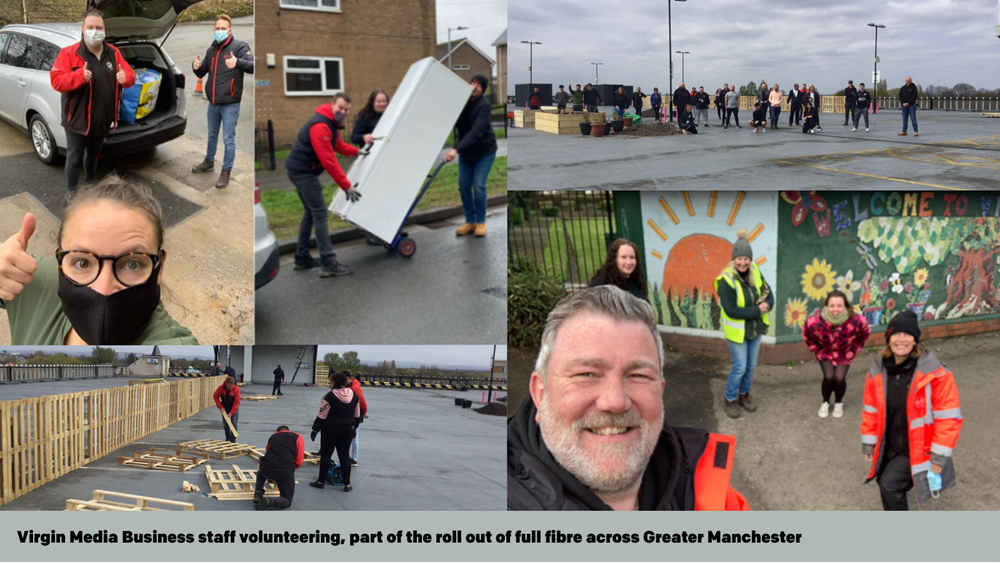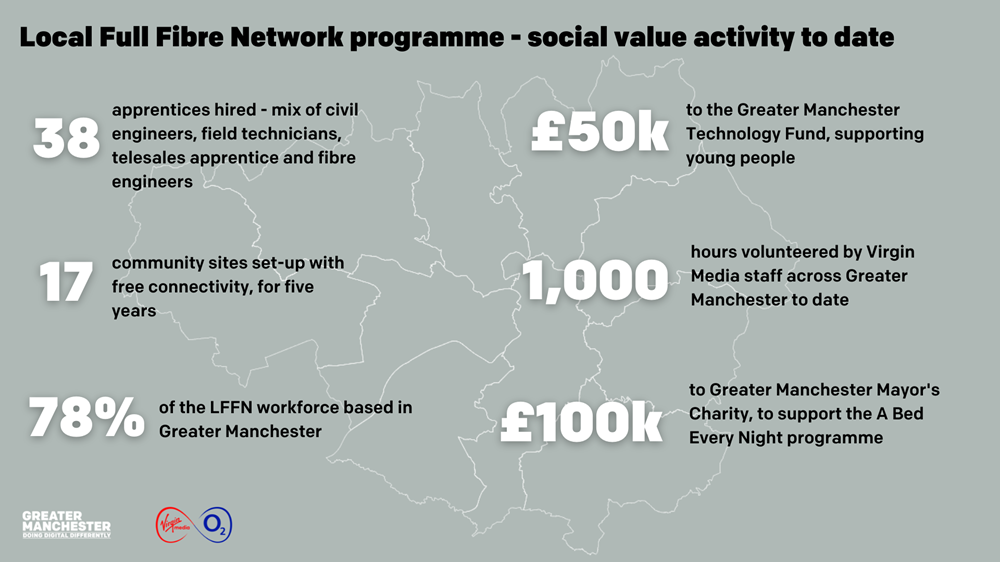 Image description
£100k to Greater Manchester Mayor's Charity to support the A Bed Every Night programme
1,000 hours volunteered by Virgin Media staff across Greater Manchester to date
78% of the LFFN workforce based in Greater Manchester
£50k to the Greater Manchester Technology Fund, supporting young people
38 apprentices hired - mix of civil engineers, field technicians, telesales apprentice and fibre engineers
17 

community sites set-up with free connectivity, for five years
In 2022, ITV Granada Reports featured LFFN on their evening news show, when they visited Deeplish Community Centre - one of the 17 sites given free connectivity for five years, as part of the programme.
NOTE: Greater Manchester localities can download the LFFN communication toolkit.
Read more about Digital Infrastructure