Digital inclusion Digital skills
BLOG: How CodeYourFuture are changing lives through coding
BLOG: How CodeYourFuture are changing lives through coding
CodeYourFuture is a non-profit organisation dedicated to fighting inequality. By providing free, part-time training to those who would not otherwise have access to careers in the tech sector we are building a bridge to ensure that everyone has access to the thriving careers and opportunity offered by the growing tech sector.
We teach refugees and disadvantaged people key technical and employability skills through our 8-month full-stack web development course. The course is designed to give our students the skills needed to enter the workplace as Junior Web Developers.
We are a volunteer led organisation, which draws on the immense skills and expertise of our volunteers to ensure that our students receive the most up-to-date and relevant skills to find the right jobs for them.
Bridging the digital divide- preparing students for a new career in tech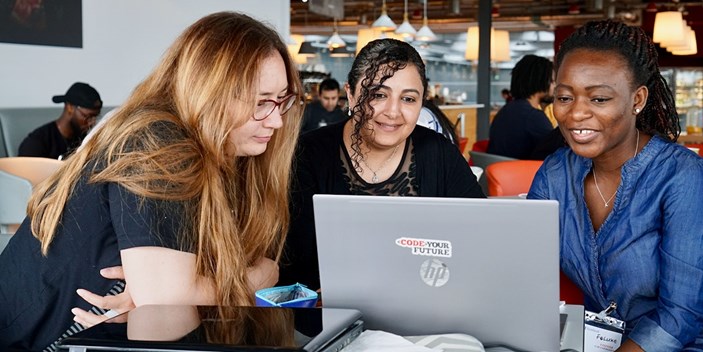 CodeYourFuture want to bridge the digital divide by providing accessible routes into a thriving career to those who wouldn't otherwise have access to the tech sector.
We ensure that our students are given every opportunity to excel and learn in a supportive and encouraging environment. We do this by providing free training, covering expenses such as transport, childcare, providing internet access and laptops for those students that need it.  We also offer a part-time course designed to allow students to fit their studying around other commitments.
Everything we do is to make sure that our students are ready for their future careers, which is why alongside the full-stack course, we build employability skills coaching into every aspect of our students training. We acknowledge the importance of these skills in the workplace and the need to prepare our students for all aspects of their future careers. The employability skills coaching we provide helps students build their confidence, communication, teamwork, problem solving skills and much more.
At CodeYourFuture we also recognise the variety of challenges facing some of our students outside of their learning and so we pair our students with Personal Development buddies who provide support, encouragement and guidance to make sure our students are in the best place to thrive on the course. As well as Personal Development buddies, we also pair our students with 1-to-1 career mentors; professionals from across the tech sector who help our students set and achieve their goals within the context of their careers.
We believe that courses like ours work to open the tech sector and create new avenues for talented and driven people to find their place in the world of tech. Which is why we work with local companies to help connect them to diverse hiring opportunities as well as providing avenues for volunteering through our regular sessions, master classes, and homework clubs.
When our students graduate from their programme, we work hand in hand with them until they have successful found their first job. We do this through weekly meetings where we support our graduates in their job search as well as finding hiring partners who can help place our students into careers in tech.
The impact of the COVID-19 pandemic
When lockdown came in to place the team didn't miss a step and switched straight to remote teaching. Within a week we were teaching via zoom and continuing our classes alongside the usual remote support for our students.
However, the move to fully remote teaching didn't come without its challenges. At CodeYourFuture our community is at the heart of everything we do from the chats at shared lunches to the close support from our personal development team, maintaining the close relationships between our students and volunteers became more challenging.
Our students also faced several external challenges - from job uncertainty to the lack of childcare, studying 25 hours a week plus Saturday lessons became significantly harder. At the same time many of our volunteers were thrown into uncertainty, it is a real testament to the dedication and resilience of the CYF community and the incredible work of our volunteers that we were able to continue teaching. We were even able to offer some support that hadn't previously been available by tapping into our national team of volunteers and even recruiting volunteers from across the world. One particular success was being able to provide one of our students who worked night shifts with a connection to some volunteers who lived in the US and could provide support at the times they needed it.
The challenges of the pandemic have forced us, as with many in the sector, to innovate our course and create new offerings. This is most visible in our new "Intro to Coding" course which runs every weekend and is open for free to all students who wish to join our full-stack course or simply get a taste for the basics of web-development. We have now run this course for over 200 students helping them on their first steps towards a new career in tech.
Get involved
We are due to start our next North West class in early 2021 for a brand-new cohort of students, applications are currently open and new students are welcome to join the weekly online Intro to Coding course for free.
You can find out more and apply here
We are on the look out for new partners to join us in supporting these incredible to students in finding careers in tech. Whether through hiring or volunteering opportunities we'd love to speak with you about the chance to really make an impact in bridging the digital divide. Get in touch with Barny (barnaby@codeyourfuture.io) to find out more.
Find out more about CodeYourFuture
Hear from CodeYourFuture students about their experiences
---
Article Published: 23/11/2020 14:38 PM