Digital inclusion Doing Digital in Later Life Digital
CASE STUDY: Wigan TechMates support residents doing digital in later life
Wigan TechMates support residents doing digital in later life
Meet Sue and Liz, w
hile self-isolating during the pandemic, Sue was keen to use her iPad to catch up on her favourite documentaries and get in contact with friends abroad.
But there was a problem - she found herself locked out of her email account and unable to reset her Apple ID. That's when a friend referred her to Digital Wigan TechMates team. 
With the help of her new buddy Liz, Sue was quickly back online exploring what the digital world had to offer. 
While helping Sue get back online, Liz has also been sharing the Doing Digital in Later Life: practical guide amongst her colleagues across Wigan, finding it to be such a great resource when supporting someone to do digital in later life. Greater Manchester Combined Authority and Good Things Foundation (external website) joined forces to produce the practical guide to support more people to get online and benefit from doing digital in later life. The guide has been designed for anyone from relatives and friends to carers and front-line workers, to help them get started and support someone they know to do digital in later life. 
Sue's not been the only one to learn a thing or two either. After discovering they shared a number of interests such as art, nature and horticulture, together Sue and Liz unearthed online gardening tips and found out the best place to buy bird feed - while Liz learned all about Sue's life and her knowledge of local artists! 
Sue said: "From the start, it was more like being helped by a friend rather than trying to explain what I wanted to learn with a stranger. It made me feel so relaxed when we were talking about the things I needed to know about my iPad. 
Liz said: "Sue's really grown in confidence using her iPad. She now uses it to watch documentaries on YouTube, email friends and look up all sorts of information. We regularly keep in touch with updates - not only about the digital skills she has learned but also about her life and hobbies." 
Liz is Online Services & Inclusion Officer at Wigan Council, and Volunteer at Wigan's TechMates (external website).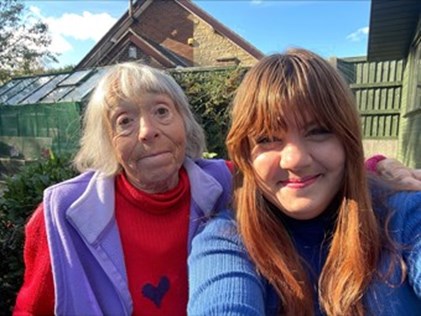 Doing Digital in Later Life: a practical guide
---
Article Published: 14/10/2022 14:47 PM