Digital inclusion Digital skills Digital
CASE STUDY: How the Manchester Adult Education Service is helping residents grow digital skills
Manchester Adult Education Service (MAES) supports adults to learn new skills and gain confidence. Every year, MAES supports over 9,000 part-time learners, delivering courses, across seven centres, to support learners progress in life and work. MAES also encourages participation and achievement in community learning and volunteering, to improve health, wellbeing and community cohesion.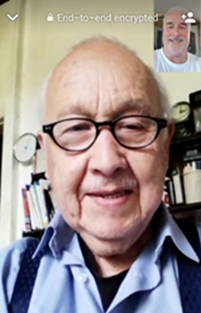 From September 2020, the digital skills team at MAES have been delivering the new Essential Digital Skills Qualifications (EDSQs) to support residents build their knowledge, digital skills and confidence online. MAES have also been running a variety of other digital skills courses for residents including:  a 6-week Beginner course, a 6-week digital Next Steps course and a Microsoft
 Apps for Work course (see the full list of Digital Skills courses on offer).
Digital skills programmes like this those delivered by MAES are important in tackling the digital skills shortage. Research from the Lloyds Bank Consumer Digital Index 2021 found that 17 million people in the UK are without the Essential Digital Skills for work and only 23% have had any digital skills training from their employer.
Digital Skill Up Drop-in sessions
MAES run 'digital skill ups' in a range of community venues across Manchester, these sessions are run on a drop-in basis and are available for residents can visit their local community venue to discuss their digital needs and grow their skills. Attendees can attend one session or can continue to go for an extended period, after which they may progress to a longer-term programme if they wished
In addition to offering Skill Ups at their own centres, this year MAES have established Skill Ups at North City Library in Harpurhey, The Roundhouse in Openshaw, Yes Manchester in Newton Heath, and from September will have launched one at Beswick Library as well.
The longest running community Skill Up takes place at Central Library in Manchester city centre on a Tuesday morning, delivered by Clive. Michael is one of the Skill Up learners who has been supported by Clive, Michael received support during the first lockdown to help him choose and set up a new device so that he could get online and keep in touch with family and friends. Michael is now able to video call and share photographs with relatives and friends around the world, he said: "I'm loving it. It has been so interesting and inspiring."

MAES work with Manchester Health and Care Commissioning Team
The MAES digital team have also been working closely with the Manchester Health and Care Commissioning team (MHCC) to investigate how best to support digitally excluded people to manage their health online. In partnership with MHCC, a pilot course was set up in Beswick to teach patients how to use the Patient Access app and the NHS app to request repeat prescriptions and access health information.
By the end of this short 4-week course, all the course participants had learned how to log onto both apps and request repeat prescriptions. They also learnt how to download health related apps and how to get the best out of their tablets.
A course participant, Fatima said: "I have learned so much. Before I couldn't do it, but now I can. If I need to order some cream or some medicine for my kids, I can go on the app, at night, whenever I remember. I'm a lone parent so I am so busy. The app helps me."
A lot of valuable insights were gained as a result of this course and these findings will be disseminated to GP practice managers across Manchester. MAES plans to run similar courses in the next academic year.
Digital for English for Speakers of Other Languages
This year the MAES team also launched a new pilot course in partnership with the English for Speakers of Other Languages (ESOL) Advice Service. The pilot course looked at how to support low level ESOL learners with online English learning. The 4-week courses met twice-weekly at centres across Manchester, teaching participants key digital skills for smartphones (because many attendees didn't have access to a laptop or computer at home). Anyone who didn't have a smartphone, was provided one that MAES sourced for them with data, this support was provided thanks to Young Manchester.
The key course aims for the pilot, were to teach learners how to use email and Zoom to access online classes. To deliver the course content an app called the Learning Community App was used, as it was previously found successful when used to teach Talk English learners at MAES and is a fantastic learning management system for non-accredited courses.
This course pilot was a great success, MAES have their decided to run these courses again next academic year from the Avenue Library and Learning Centre in Higher Blackley, Greenheys in Moss Side, and Longsight Library and Learning Centre.
---
The Digital Skills team at MAES are encouraging anyone looking to establish a bespoke course for their organisation to get in touch. You can contact Kate Harrison, Digital Inclusion Lead for MAES, on kate.harrison@manchester.gov.uk.
Find all the information on the MAES 21-22 programme and how to register (Manchester Adult Education, opens in new window)
Find out more about the Greater Manchester Digital Inclusion Agenda
---
Article Published: 09/08/2021 11:46 AM