Fast Track Fund Case Studies
Fast Track Fund Case Studies
The Fast Track Digital Workforce Fund, which was developed to address locally identified digital skills gaps, is a joint venture between the Department for Digital, Culture, Media and Sport (DCMS), Greater Manchester Combined Authority (GMCA) and Lancashire Digital Skills Partnership (LDSP).
The £3 million fund, which is the first of its kind in the UK, was set up to support both Greater Manchester and Lancashire residents with accessible routes into digital employment, specifically targeting disadvantaged groups and those underrepresented to help them get into digital roles.
---
Reform Radio ShortaFORM case study
Name: Cal- Cohort 2
Reform Radio began broadcasting the best in music, arts, and culture in 2013. They also use their framework of an online station to support young adults into employment.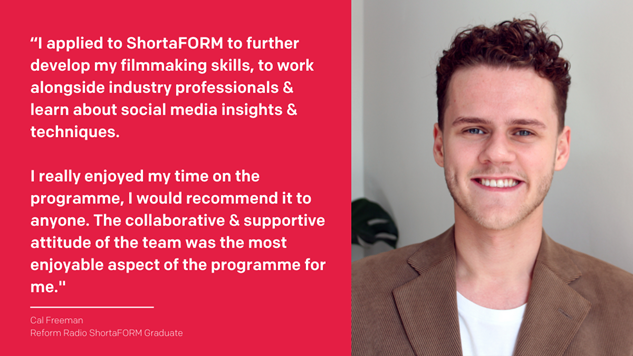 In 2020, Reform Radio received funding through the Fast Track Digital Workforce Fund to deliver ShortaFORM, a new training programme for unemployed young people aged 18-30 to help them develop their creative digital skills in production, editing and marketing.  
Before applying for the ShortaFORM programme, Cal Freeman was managing to secure adhoc work as a production runner and was looking for more consistent and secure production job opportunities.
Cal said: "I applied to ShortaFORM to further develop my filmmaking skills, work alongside industry professionals and learn about social media insights and techniques. I also was excited by the prospect of working with local and likeminded creatives.

"I really enjoyed my time on the programme and I would highly recommend it to anyone thinking of applying. The collaborative and supportive attitude of the team was the most enjoyable aspect of the program, for me. I was impressed and glad to see and feel how comfortable and open everyone became with each other, especially considering nearly all the course was held via webcams."

Since graduating from the programme Cal has completed a production placement with Bearded Fellows Agency. He is now in talks with an organisation regarding becoming their social media creative. Cal continues to receive support and guidance from Reform Radio whenever he needs it.
Cal continued: "The programme has given me a lot of hope that securing a full-time position in the creative content industries is within my reach. It has exposed me to a network of Manchester creatives, useful resources and opportunities that are available to us because of ShortaFORM. Reform Radio are a brilliant organisation to be involved with and I am glad I got the chance to do so."
---
Generation AWS re/Start case study
Name: Victoria- Cohort 1
Worldwide, more than 75 million young people are unemployed. But many employers can't find people with the skills they need for entry-level jobs. Generation is an independent nonprofit founded in 2014 by McKinsey & Company to help bridge the gap—at speed and scale.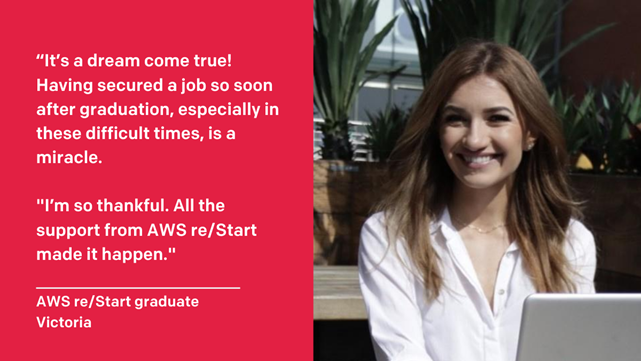 Generation received funding in round 1 of the Fast Track Digital Workforce Fund to deliver their AWS re/Start training programme. The AWS re/Start programme is a 12 week, full-time, boot camp run in collaboration with the Princes Trust, which prepares individuals for entry-level cloud positions. The program was designed to support unemployed and underemployed individuals by providing education in AWS Cloud skills and connecting alumni with potential employers.
The Fast Track Digital Workforce Fund, which was developed to address locally identified digital skills gaps, is a joint venture between the Department for Digital, Culture, Media and Sport (DCMS), Greater Manchester Combined Authority (GMCA) and Lancashire Digital Skills Partnership (LDSP). 
Victoria is originally from Russia and came to the UK in 2017. Before enrolling onto the re/start training programme she was unemployed and struggling to find meaningful employment.
Victoria moved from Russia to the UK in 2017 at the age of 26. She struggled to find a job, despite her degree in economics. After doing some casual work in a call centre, whilst studying web design in the evenings, she came across an advert for the AWS re/Start bootcamp.  Due to her interest in Technology, it sounded like the perfect match and she was delighted to be given the chance to study alongside other AWS hopefuls.  3 months later and after successful graduating from the course Victoria was lined up with an interview at Oxbury Bank Plc.  She was delighted to be offered the role as Trainee AWS Engineer. 
On landing a dream job, Victoria said: "It`s a dream come true! Having secured a job so soon after graduation, especially in these difficult times, is a miracle. I`m so thankful. All the support from AWS re/Start made it happen."

Stuart Ellidge, CTO at Oxbury said: "We're really excited to have Victoria join the Oxbury IT Operations team. The skills she has acquired on the AWS re/Start programme will definitely stand her in good stead and we look forwards to helping her to achieve her potential in a fast-moving and dynamic industry."
---
Tech Equity MCR
Name: Jaime Levell- Cohort 2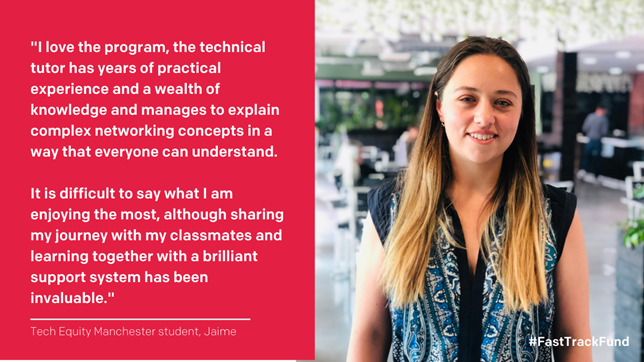 Tech Manchester exists to provide startups with an opportunity to learn from those who have been there and done it, for projects to find the financial backing they need, and for the inquisitive to connect with like-minded innovators. Their goal is to lift Manchester's tech offering to new heights.
Tech Manchester were funded by the GMCA in round two of the Fast Track Digital Workforce Fund to deliver; Tech Equity Mcr. The Tech Equity Mcr programme is a 'work readiness' course for underemployed or unemployed women. The course includes three technical qualifications, organised with employer partners who have a significant requirement for junior network engineers.
A current course participant Jaime said: "I decided to retrain into the tech industry prior to losing my job at the beginning of the Covid-19 crisis. I am now part way through Tech Equity Mcr Programme delivered by Tech Manchester. I love the program the technical tutor has years of practical experience and a wealth of knowledge and manages to explain complex networking concepts in a way that everyone can understand.
Before starting, the Tech Equity Mcr Programme Jaime was unemployed after she was made redundant from her role as a commercial archaeologist due to Covid-19.
Jaime continued: "I decided to apply for the Tech Equity MCR programme because of the technical skills it promised to develop. So far, on the course I have been able to, not only develop my technical skills, but also building my professional network and opportunities for future employment.
"It is difficult to say what I am enjoying the most about the programme, although sharing my journey with my classmates and learning together with a brilliant support system provided by Tech Manchester, TAP The African Pot, Maleable Minds and the Heroworx Institute has been invaluable.    
"After the programme has finished I hope to go onto a tech role, in security or networks or else start an apprenticeship within the technology sphere."  
---
Raytheon Cyber Academy
Name: Dan, Cohort 2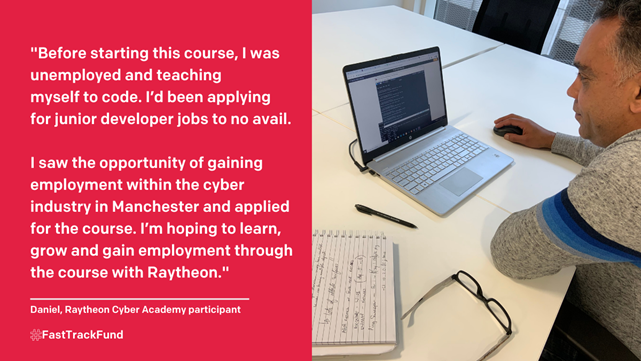 Raytheon Professional Services deliver learning solutions that are aligned with key business objectives helping to transform workforce performance.
Raytheon Professional Services received funding in round two of the Fast Track Fund for their Cyber Academy. The Cyber Academy was funded to deliver the core skills & knowledge training essential for a cyber-security engineer including two technical qualifications combined with wider personal and professional skills.
The project aims to upskill employees from existing IT roles as well as supporting women, over 50s, ex-armed forces and black & ethnic minorities into the cyber industry. 
One course participant Dan was unemployed before starting the Cyber Academy and had been teaching himself to code. He said: "I'd been applying for junior developer jobs to no avail."
Dan continued: "I saw the opportunity of gaining employment within the cyber industry in Manchester and applied for the course. I'm hoping to learn, grow and gain employment through the course with Raytheon."