Fast Track Digital Workforce Fund- DFE Digital Bootcamp Fund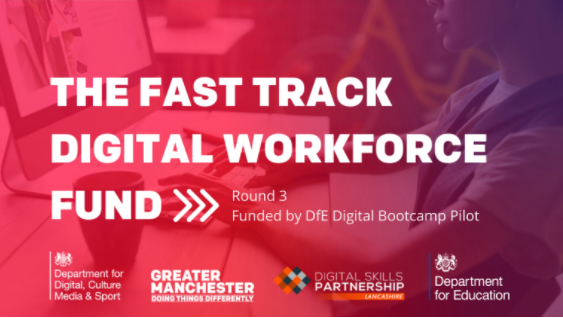 Fast Track Digital Workforce Fund - DFE Digital Bootcamp Fund
The Fast Track Digital Workforce Fund is a joint venture between the Department for Digital, Culture, Media and Sport, Greater Manchester Combined Authority      and Lancashire Digital Skills Partnership and was established to address locally identified digital skills gaps. The Fast Track Fund supports Greater Manchester and Lancashire residents with accessible routes into digital employment, specifically targeting disadvantaged groups and those underrepresented to help them get into digital roles.
This autumn there will be an exciting extension of the fund, supported by the Department for Education through their 'Bootcamp Fund', designed to give people more opportunities to build up their digital skills and fast-track them to an interview with a local employer.
These modern, hands-on courses will be delivered in partnership with employers, providers and local authorities to help candidates develop the digital skills most in-demand in Greater Manchester and help boost employability.
Further programmes will be open for candidate applications at the end of October. Please check back to this webpage then for details and how you can apply to take part.
In the meantime if you are interested in a career in the digital sector, we have created a directory of opportunities available to take the next step towards a digital career.