Greater Manchester cyber ecosystem
We are establishing Greater Manchester as UK and European centre for cyber and digital ethics, trust and security
We want Greater Manchester to be known as an extremely attractive place for:
Digital skills for life and living - a place and approach that builds digital literacy, confidence and capability through diverse and varied training and learning programmes. Recognising digital literacy can be part of the solution to social isolation and exclusion. As well as investing in digital skills, education and training so all can access, benefit from and take advantage of an increasingly digital workplace
Powering opportunity for business, in an increasingly digital world. Home to a thriving business ecosystem with services, support and advice to help businesses of all sizes thrive, innovate and adapt to an increasingly digital world. Connected and collaborative, enabling businesses to open up and access new opportunities and unlock new possibilities
Where digital industry grows and flourishes. Home to and the home of emerging and growing digital industries and digital pioneers. A place where next generation businesses and careers grow and prosper. Recognised, reputable and on the radar nationally and internationally
Greater Manchester presents a unique opportunity for cyber - a place with the ambition and strong civic mandate, to take an approach to digital that ensures no one gets left behind. Helping everyone to live healthier and happier lives by being able to navigate through, access and benefit from an increasingly digital world.
Greater Manchester has a £5 billion digital economy and a strong cyber ecosystem is at the heart of that. Greater Manchester is the fastest-growing tech city within Europe, now only second to London when it comes to investment, overtaking Cambridge for the first time.
Digital is in Greater Manchester's DNA. we are leveraging our expertise in areas like cyber security, digital health and digital manufacturing to attract further investment.
"The world is changing at an unprecedented rate. That change is driving extraordinary opportunity, innovation and progress. It's also unleashing amazing complexity, uncertainty and risk. If we want a security and intelligence mission fit for our second century, it's crucial we keep reinventing –which is why our new Manchester facility will be vital to our future success."

Jeremy Fleming, Director GCHQ
Our assets
Resources
Were you at CYBERUK 2022? Visit our dedicated page to learn more about the exhibitors that showcased Greater Manchester at CYBERUK 2022.
Read the Greater Manchester Cyber Prospectus 2022 (Adobe PDF, 298KB)
Watch and read insights from members of our Greater Manchester Cyber Security Advisory Group
Key milestones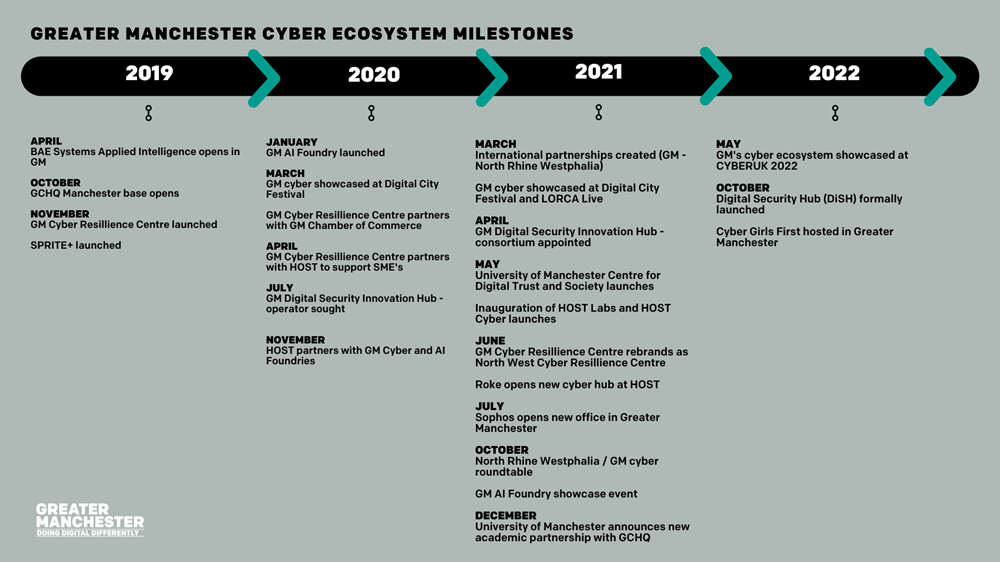 More and sector news