Evidence Update 2022
2022 Greater Manchester Independent Prosperity Review: Evidence Update
In October 2022, the underpinning evidence for the Greater Manchester Independent Prosperity Review was revisited in light of Covid-19, the UK's exit from European Union and the inflation and energy shock. The Review Panel and thematic experts have provided commentary and reflections on the seven inter-connected thematic areas: carbon neutrality, health inequalities, productivity and the business base, the labour market, skills utilisation and employer investment in skills, trade, and transport which feature within the report. All are set within the context of recent changes and underlying chronic stresses. This work is informing the refresh of the Local Industrial Strategy.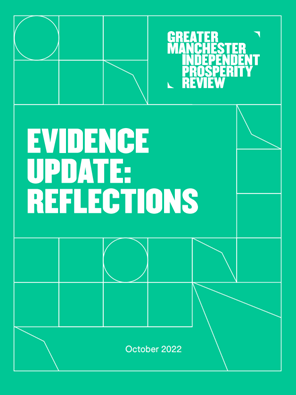 The Reflections Report (PDF, 11MB)
The Evidence Update Reflections Report draws from a suite of work including:
Carbon Neutrality (PDF, 0.4MB)
Health Inequalities (PDF, 2.8MB)
The Business Base (PDF, 0.4MB)
The Labour Market (PDF, 0.6MB)
Skills Utilisation and Employer Investment in Skills (PDF, 0.5MB)
Please note these documents may not be accessible to people using screenreaders or other assistive technologies. We aim to make these documents accessible by January 2023.