Our energy supply priorities
Increasing local renewable electricity generation, adding at least a further 45MW by 2024
Decarbonising how we heat out buildings, adding at least a further 10TWh of low-carbon heating by 2024
Increasing the diversity and flexibility of our supply, adding at least a further 45MW of diverse and flexible load by 2024
What we are doing
Greater Manchester Local Energy Market
Across Greater Manchester, we are looking at how the electricity needs of our city-region can be met through local innovations to help us achieve our target of becoming a zero-carbon emissions city region by 2038.
The Greater Manchester Local Energy Market is a 2-year project from July 2020 to June 2022 that sees Greater Manchester Combined Authority and 11 partners work together to look at how we adapt our local energy system. This includes how to accommodate shifts in supply and demand from the expected increases in electric vehicles. It's the first project of its kind to be delivered at scale across a city-region.
The project is funded by InnovateUK (opens in a new window) and the 11 partners are:
Bruntwood
OvoEnergy
Carbon Co-Op
Hitachi
Daikin
Cornwall Insight
Graham Oakes Consulting
Cadent
Regen
Electricity North West
Northwards Housing
The project will investigate ways to increase the use of smart technologies and local storage of energy to spread the increase in peak loads these changes may bring. It will also factor in the increases in our population and number of homes.

The project vision combines two key themes:
A place-based approach to Local Area Energy Planning (LEAP), bringing together the demands of the energy transition with a traditional local authority-led approach to planning, enabling us all to understand where and what we need to retrofit, where to place future energy assets and to support the network operators to plan based on an informed regional position. New services and tariffs to support and enable the changes and measure identified through the Local Area Energy Planning.
 The design and development of unique tools required to optimise how we use, trade and supply energy across the region in the form a new Local Energy Market (LEM).The GM LEM will support the integration of new smart technologies across heat, power and transport, capable of responding to local energy network distribution and national energy transmission.
The design for the project puts customers at the heart of our approach, incorporating commercial property clients, early adopter owner occupiers, social housing tenants and the public sector. This approach creates an understanding of customer needs and energy usage levels. Recognising the economic, environmental and societal challenges the energy transition presents, the project involves citizens, the public and private sector and seeks to protect the most vulnerable in society from the impact of rising energy bills or poor-quality homes.
The consortia has commissioned the Energy Systems Catapult to deliver the first region-wide Local Area Energy plan, encompassing all 10 districts from street level to Energy network.
Upside Energy will support the design and integration of the new Local Energy Market.

Greater Manchester Combined Authority (GMCA) is working with Big Clean Switch to offer residents £35 of free energy when they switch to a green tariff from some of the UK's most trusted suppliers.
With many households across Greater Manchester facing rising bills due to more time spent at home, the scheme helps residents switch to low cost, high quality green energy tariffs.
 Switching is simple:
Find a recent bill from your current supplier and fill your details in on the form (link opens in new tab).
You'll be able to compare your current energy bill with how much you'll spend with each of Big Clean Switch's green suppliers*. Suppliers who are offering the £35 free energy with an account credit will show in the supplier list. If you choose a supplier that isn't taking part, GMCA will receive £35 to help fund local environmental projects.
Once you've selected your preferred deal, just add in a few details to get your new energy account set up. Your £35 of free energy will be added to your new account within six weeks of the switch going live.
For more information on the scheme, email help@bigcleanswitch.org or call Big Clean Switch on 0800 249 4770.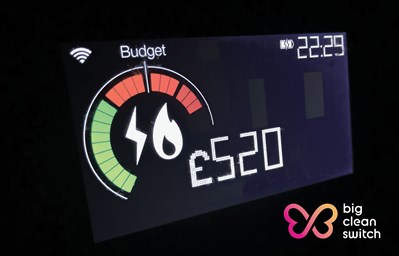 Content to be added at a later date.
Content to be added at a later date.
Content to be added at a later date.
Content to be added at a later date.