Places for Everyone 2021 (Regulation 19)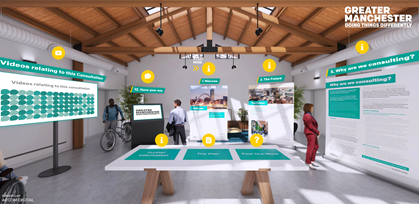 Read more about the plan by visiting our virtual exhibition space
Places for Everyone is a long-term plan of nine Greater Manchester districts (Bolton, Bury, Manchester, Oldham, Rochdale, Salford, Tameside, Trafford and Wigan) for jobs, new homes, and sustainable growth. It has been published by the GMCA on behalf of the nine districts.
The plan is a joint development plan of the nine districts which will determine the kind of development that takes place in their boroughs, maximising the use of brownfield land and urban spaces while protecting Green Belt land from the risk of unplanned development.
It will also ensure all new developments are sustainably integrated into Greater Manchester's transport network or supported by new infrastructure.
The plan is the result of a process that began as the Greater Manchester Spatial Framework (GMSF) in 2014, and has been informed by the feedback received from residents, businesses and the development industry to previous consultations on that Plan. The nine districts decided to continue to produce a joint plan following the withdrawal of Stockport Council from the GMSF in December 2020.
We have now produced what we consider to be our final plan, the one we want to submit to the Secretary of State.
This plan:
sets out how the nine boroughs should develop up until 2037;
identifies the amount of new development that will come forward across the 9 districts, in terms of housing, offices, and industry and warehousing, and the main areas in which this will be focused;
supports the delivery of key infrastructure, such as transport and utilities;
protects the important environmental assets across the city region;
allocates sites for employment and housing outside of the existing urban area; and
defines a new Green Belt boundary for Greater Manchester
Before submitting the plan, we wanted you to tell us if you think the plan was 'sound' and whether we had complied with the necessary legal requirements. We therefore invited representations during a period of consultation between 9 August and 3 October 2021.
By clicking below you can read the plan, supporting / background evidence documents, and submission documents in full and find out more information about the examination process.